November 10, 2009
Posted: 01:44 PM ET
When the Sony PlayStation 3 arrived on the scene, many users of the PS and PS2 wanted backward compatibility – the ability to play older games on the new console.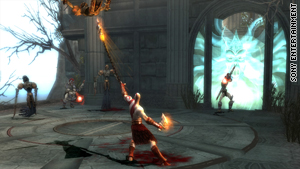 While Sony accommodated these players for a while, newer versions of the PS3 decided to drop backward compatibility. The move forced many users to hang on to their old consoles (and pray they didn't break) to play the classic games they loved.
Sony has solved this problem with arguably one of the best series to come out for PlayStation: "God of War." Starting November 17, the "God of War" collection ("God of War" and "God of War II") will be re-mastered and available on Blu-ray disc for the PS3.
"God of War" features Kratos, a Spartan warrior, as he seeks revenge against the Greek gods who betrayed him. In the first two offerings, Kratos battles Ares, the God of War, and travels through Hades itself in an effort to free himself from the Gods' reach.
A Sony spokesperson said the critically-acclaimed games will remain the same, but PlayStation Network trophies will be available to give users new goals to aim for during gameplay. Both games will be on one disc, but will play separately.
"God of War III", a PS3 exclusive, also will make use of the trophy system and is scheduled to be released in March 2010. An "ultimate" version of the game, complete with an assortment of exclusive collectible and digital content encased in a sculpted replica of Pandora's Box, will be available with pre-orders.
Buyers of "God of War III" also will receive a full-length movie documentary depicting the history of the franchise, game-inspired downloadable music and access to the Combat Arena, which contains an exclusive environment and up to seven unique challenges.
- Larry Frum, for CNN
Filed under: video games
November 9, 2009
Posted: 01:19 PM ET
In a recent Sky News interview, News Corporation chairman and CEO Rupert Murdoch announced that News Corp websites such as The Wall Street Journal may be removed from search engines.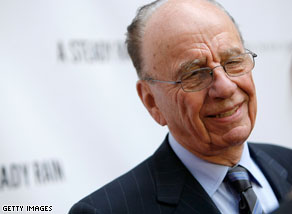 News Corporation chairman and CEO Rupert Murdoch
Websites typically rely on search engines to index their content so users can find them. Search engine optimization (SEO), or the process of increasing a site's presence on search engines, is big business. But Murdoch would prefer News Corp sites weren't indexed at all.
In the interview, Murdoch criticized Google and other news aggregates for taking content without permission. When asked about the value of traffic generated from search engines, Murdoch claimed readers who use search engines to find articles have little value to advertisers.
Murdoch continued by attacking the ad-based model that much of the Internet is built upon, "There are no Web sites anywhere in the world that are making serious money ... there's not enough advertising in the world to go around to make all the Web sites profitable."
While not every site can rely on advertising, Google may disagree with the suggestion that ads can't generate serious money.
Murdoch's plan is to charge a subscription fee to readers of News Corp.'s Internet content, similar to a subscription for a newspaper. He admits this business model will decrease traffic, but believes a pay wall is necessary to protect content from news aggregators: "We'd rather have fewer people come to our website and pay."
I can't see the future, but Murdoch's plan for News Corp. sites sounds like a big bag of fail to me. The subscription-based business model is not worth reviving. Internet content, especially news, should remain free for everyone.
Watch the full interview below.
Posted by: Wes Finley-Price -- CNN.com Webmaster
Filed under: computer security • DRM • Internet • online news
November 6, 2009
Posted: 05:31 PM ET
This is too weird: A bird reportedly has dropped a "bit of baguette" onto the world's largest atom smasher, causing the machine to short out for a period of time.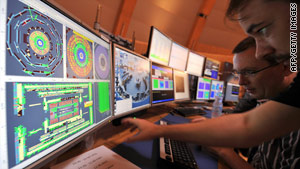 It's just the latest mishap for the Large Hadron Collider, or LHC, which scientists plan to use to get insight into the universe's origins. The LHC, which has a 17-mile track to circulate protons and is located underground on the French-Swiss border outside Geneva, Switzerland, is the largest particle accelerator in the world and cost about $10 billion.
The LHC booted up in September 2008, but technical problems forced it to shut down shortly after its launch. When the mystery bird reportedly dropped a piece of bread onto the particle accelerator's outdoor machinery earlier this week, the device was not turned on, according to reports, and therefore did not suffer major damage.
Had the machine been activated, the baguette incident could have caused the LHC to go into shutdown mode, the UK's The Register reports. The Register quotes Dr. Mike Lamont, a worker at the European Organization for Nuclear Research (or CERN), as saying that "a bit of baguette" had been dropped on the LHC, possibly by a bird.
A call to CERN's press office was not immediately returned.
ZDNet writes that the baguette in question did not have a chocolate filling:
The [CERN] spokesperson said the bread, which was "naked and unfilled", had caused a short circuit when dropped on an electrical installation that supplies energy to the massive experiment. While the bird was unconfirmed as the definite culprit, it had been spotted beforehand near the substation carrying bread, said the spokesperson.
The avian accident has prompted a number of online parodies and jokes (this photo is my favorite). CNET UK, a CNN content partner, writes jokingly that it's clear the bird was French since it was carrying a baguette:
We're not ones for crude for national stereotyping, but the detail that the bird dropped a bit of baguette suggests this must have occurred on the French side of the LHC. It's unclear whether the bird was actually riding a bike, or indeed wearing onions and a beret.
A Discover blog exclaims: "Zut alors!"
And CrunchGear says the strange incident shows the LHC is "so abhorrent to nature that the universe is contriving to snuff it out."
Posted by: John D. Sutter -- CNN.com writer/producer
Filed under: Large Hadron Collider • science • Space • universe
November 4, 2009
Posted: 10:04 AM ET
On my scavenger hunt into cloud computing, I learned there are few if any ways to compare one cloud computing company to another. Say, for instance, you wanted to upload the contents of your laptop to "the cloud" of the Internet. It would be hard if not impossible to get a comparison about how well companies like Microsoft, Google, Amazon and IBM provide this service, which is sometimes called "cloud storage."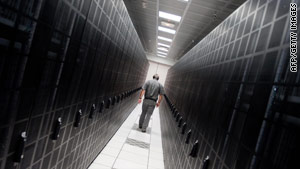 One emerging and important way to make these comparisons, though, is energy efficiency.
The computer farms that make up the cloud are energy-sucking machines. It costs more to cool the computers than to run them. The U.S. Environmental Protection Agency says 1.5 percent of all electricity consumption in the country in 2007 came from the data centers that house these cloud computers. And that electricity use is expected to double every five years as we store and process more info in the cloud. (View the EPA's full report to Congress on the subject).
But not all clouds are equal. And the EPA and an industry group called The Green Grid have made it part of their missions to give consumers ways to compare the emerging cloud power-houses.
In April, the EPA will unveil an "Energy Star" ratings program for data centers, according to Michael Zatz, manager of the EPA's Energy Star program for commercial buildings. The program is voluntary, so not everyone will report their efficiencies, but a number of companies, including Microsoft, are already on board.
Here's an site with more information on this emerging program for green data centers. Scroll down half-way to find a list of some companies involved. Also check out Green Grid for a list of computing companies that are working with that group towards a more energy-efficient future for computing.
And let me know what you think. Is it a big deal that so little information is available about cloud computing? What would you like to know that's not being shared?
Posted by: John D. Sutter -- CNN.com writer/producer
Filed under: climate change • cloud computing • consumer tech • data centers • Energy
Posted: 10:02 AM ET
Cloud computing appears to be growing like mad.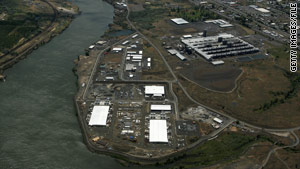 Instead of computing on our desktops and laptops, many people are moving the heavy lifting to data centers in secretive locations all of the world.
These centers are owned largely by big companies like Google, Amazon, IBM and Microsoft, which charge monthly fees to clients who want to move their IT "into the cloud."
This transition may seem subtle. But writer Nicholas Carr argues it's on pace with changes in the electricity industry a century ago that gave us the modern power utilities we have today.
I talked recently with Carr about his book, "The Big Switch: Rewiring the World, from Edison to Google" for a first-person story I wrote about the cloud.
In the book, Carr writes that people used to build small power-generation stations for individual factories and neighborhood blocks. As electricity became more common, and more important for industry, these small plants consolidated because it was more efficient - and so that power could be delivered to everyone across a large and complicated grid.
This is happening today with information. Businesses used to have computer servers in a closet or some back corner of the office. Many still do. But the new model is the cloud, in which these individual IT departments are outsourced to big companies who say they have several advantages: efficiency at a larger scale, expertise and higher reliability.
The U.S. government is jumping on board with the idea. It recently announced a "government cloud" project with Google.
Carr says we're at the beginning of a major information-delivery revolution.
For now, the cloud is rather scattered. A number of companies participate and some of the clouds are private or semi-private. Going forward, Carr expects the data centers to consolidate, leaving control of the cloud in the hands of a few mega-companies - kind of like electric utilities.
The big difference between power and information? Carr says regulations haven't caught up with the cloud.
As a result, it's unclear who owns some data stored in the cloud, and there are no standard file formats that would allow consumers to transfer their data - their photos, blogs, etc - from one cloud company to another, he said.
Posted by: John D. Sutter -- CNN.com writer/producer
Filed under: cloud computing • consumer tech • data centers
November 3, 2009
Posted: 05:00 PM ET
Adobe is not happy about the iPhone's lack of Flash support and the company is accusing Apple of unfairly restricting the technology.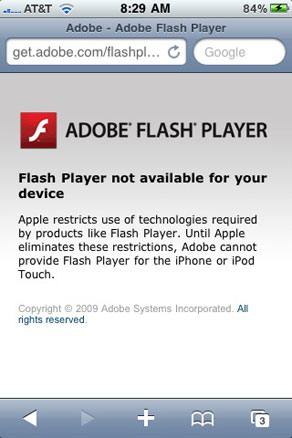 iPhone users who visit the Flash installation site are greeted with a not-so-subtle message claiming:
Flash Player not available for your device.

Apple restricts use of technologies required by products like Flash Player. Until Apple eliminates these restrictions, Adobe cannot provide Flash Player for the iPhone or iPod Touch.
Adobe Flash is a multimedia platform commonly used to add interactivity to Web sites. While it has been criticized for being resource intensive, Flash is still the most popular approach to to integrate animations and video into Web pages.
Since the iPhone's debut, the device's Safari browser has been unable to play Flash, and users routinely lament the loss of nearly all online video content.
Apple declined to comment, but some iPhone developers speculate Apple opted against a full Flash experience because of technical problems it could raise on the handset, such as battery drainage or sluggish web browsing.
Last summer's release of the speedier iPhone 3GS did not ease Flash restrictions. Apple may have chosen to block Flash not for performance reasons, but because interactive Flash applications and games could compete with the iTunes App store.
Do you agree with Adobe that Apple is unfairly restricting technology by limiting Flash on the iPhone? Or is the message on Adobe's Web site simply propaganda aimed to shift the blame from Flash's performance to Apple's anticompetitive nature?
Posted by: Wes Finley-Price -- CNN.com Webmaster
Filed under: Apple • cell phones • consumer tech • Gaming • iPhone • iPod • mobile phones
Posted: 12:45 PM ET
"World of Warcraft's" 11.5 million players will soon need a new way to get to Azeroth.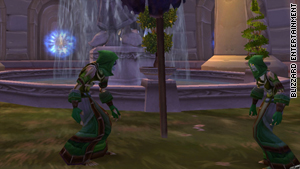 Blizzard Entertainment, maker of the popular computer fantasy game, is requiring subscribers to sign up for the game through its gaming network, Battle.net, by November 11.
Current players of WoW, as the massively multi-player online role-playing game is informally called, have until then to create new Battle.net accounts. After that, the fantasy universe of Azeroth will be closed to them.
Battle.net offers a centralized account system that lets players manage all their Blizzard Entertainment games, including "World of Warcraft," in one place without having to remember multiple logins.
The upgraded Battle.net service is expected to merge many features that Blizzard plans to use in the future while helping players keep track of current games, opt in to beta tests and communicate more easily with each other.
"We really wanted to bring the Blizzard community together," said Rob Pardo, executive vice president of game development at Blizzard. "Our fans are more than just WoW fans. They are fans of Blizzard."
Pardo said impetus for the changes started with the company's plans for "StarCraft II: Wings of Liberty," a science fiction game set for release in 2010.
"The biggest thing for players will be the cross communication," Pardo said. "It will allow players to talk to others across the realm and across games."
Pardo also said the upgraded Battle.net system will offer better security for WoW players, some of whom have been victimized by thieves who infiltrate accounts.
Battle.net's authenticaton tool produces a unique, one-time code that gamers must use in addition to their password. The code can be obtained from a fob purchased from Blizzard or as an app downloaded to a mobile phone.
"Most players lose their account info by giving away passwords through phishing sites. Our mobile authenticator will assure security even if you lose your log-in and password," Pardo said.
- Larry Frum, for CNN
Filed under: video games