February 4, 2010
Posted: 04:18 PM ET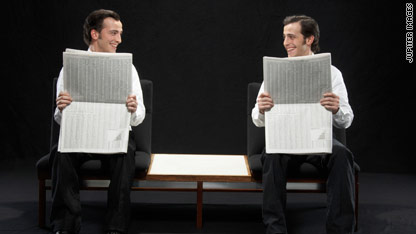 I've rarely felt more confused than last night when I signed on Facebook and saw Lady Gaga, Miley Cyrus and Heather Graham's pictures on my News Feed.
It took me a minute to realize I hadn't suddenly become part of a celebrity social circle - my friends simply had changed their profile pictures to those of celebrities.
But I still didn't know exactly what was going on until I did some searching.
As it turns out, it's "Doppelganger Week," the latest cultural meme to take Facebook by storm, and it has a number of people switching their profile pictures to celebrity lookalikes. After climbing out of the metaphorical hole I had been hiding in the last few weeks, I realized the immeasurable extent of Doppelganger Week's popularity.
Justin Smith, the editor of Inside Facebook, assured me I'm not alone in my delayed discovery.
"No official dates are associated with [Doppelganger Week], he said. "As more people discover it, it will continue to grow. There are 350 million people on Facbeook. It could be a while, not necessarily just a couple more days."
This is by no means the first cultural trend on Facebook. Masses of women have posted the color of their bras on Facebook in honor of breast cancer awareness. And others have made status updates out of the Urban Dictionary definitions of their first names.
Smith said Doppelganger can make for some funny social interactions:
"There was one awkward interaction where someone commented, 'Wow you're looking great theses days,' not knowing (the picture) was a celebrity. But this is to be expected. People are still discovering it," he said.
Despite the trend's many followers, CNET isn't jumping on "Doppelganger Week" bandwagon. The site says the celebrity alter-ego photos could violate Facebook's Terms of Service.
Facebook asks its users not to post photos they don't have the rights to.
In an e-mail to CNN.com, Facebook spokeswoman Kathleen Loughlin said the issue hasn't come up yet:
Users are responsible for the content they post, but as always, Facebook will respond to requests for removal that it receives from copyright holders. In this case, we have received no such requests.
Posted by: Stephanie Goldberg -- CNN Intern
Filed under: Facebook • technology
Posted: 03:19 PM ET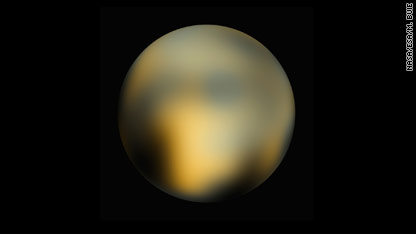 NASA released new photos today of everyone's favorite former planet: Pluto.
The space agency says the photos, which were taken in the early 2000s by the Hubble Space Telescope, are the "most detailed and dramatic images ever taken of the distant dwarf planet."
"The Hubble pictures confirm Pluto is a dynamic world that undergoes dramatic atmospheric changes not simply a ball of ice and rock," NASA says in a news release.
But the new glamour shots won't be enough to get Pluto registered again as a planet.
The pictures come just as Pluto is heading into a new phase of its 248-year orbit around the sun, NASA says:
Pluto is unlike Earth, where the planet's tilt alone drives seasons. Pluto's seasons are asymmetric because of its elliptical orbit. Spring transitions to polar summer quickly in the northern hemisphere, because Pluto is moving faster along its orbit when it is closer to the Sun.
Space.com says new colors and features of Pluto came to light in the photos:
The surface appears reddish, yellowish, grayish in places, with a mysterious bright spot that is particularly puzzling to scientists.

Some of the colors revealed in the new pictures of Pluto are thought to result from ultraviolet radiation from the sun interacting with methane in the tenuous atmosphere of the dwarf planet. The bright spot apparent near the equator has been found in other observations to be unusually rich in carbon monoxide frost.
Pluto lost its status as our solar system's ninth planet in 2006 when an international group of scientists decided that it was too small and too distant to be considered a member of the Earth's solar-system family.
More from the National Academies:
Pluto is considerably smaller and more distant than the other planets in our solar system. Two-thirds the size of Earth's moon, Pluto's classification as a planet came under scrutiny when many objects of similar size and distance were discovered in the Kuiper Belt in the 1990s.
Posted by: John D. Sutter -- CNN.com writer/producer
Filed under: NASA • Space
Posted: 02:35 PM ET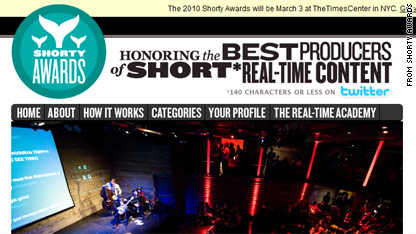 The Shorty Awards - the real-time Web's version of the Oscars - has released its list of finalists.
Check out the list here. You can vote on your favorites until Friday at noon ET. (More on how to do that).
Winners will be announced at a March 3 ceremony in New York City.
The awards are voted on through Twitter and are doled out to popular Twitter users in a number of categories, from tech and science tweets to literature and "customerservice" posts.
CNN anchor Rick Sanchez hosted the first Shorty Awards last year.
Below, I listed a few stand-outs from the 2010 Shorty finalists. Some made my list because they're cool, others because it seems odd they would have risen to such Twitter stardom. I'm a little surprised that the only Twitter user on the list that I currently follow is @NASA. But maybe I'm just that uncool?
Sesame Street (kids' show)
Stephen Fry (British actor)
Smashing Magazine (design)
Paula Poundstone (comedian)
Adam Savage (myth buster)
The Llama (bossy animal)
Posted by: John D. Sutter -- CNN.com writer/producer
Filed under: Shorty Awards
February 3, 2010
Posted: 11:15 AM ET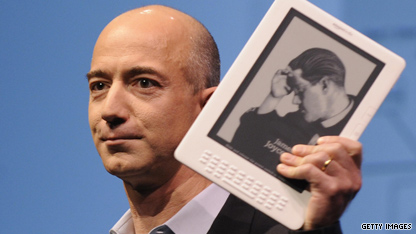 Amazon has given in to publisher pressure and agreed to abandon their $9.99 price point for eBooks.
Publisher Macmillan felt that the $9.99 price devalued many of its bestsellers, which often sell for $30 in hardcover format. In response to the pricing dispute, Amazon briefly removed all Macmillan books from its store last week. However, the boycott lasted only a few days before Amazon gave in to Macmillan's demands.
In a statement Sunday, Amazon defended its position to customers:
Macmillan, one of the "big six" publishers, has clearly communicated to us that, regardless of our viewpoint, they are committed to switching to an agency model and charging $12.99 to $14.99 for e-book versions of bestsellers and most hardcover releases.

We have expressed our strong disagreement and the seriousness of our disagreement by temporarily ceasing the sale of all Macmillan titles. We want you to know that ultimately, however, we will have to capitulate and accept Macmillan's terms because Macmillan has a monopoly over their own titles, and we will want to offer them to you even at prices we believe are needlessly high for e-books.
Amazon's decision to throw in the towel may be related to Macmillian's recent agreement to sell books in Apple's iBookstore. Amazon has captured an overwhelming share of the eBook market with its Kindle reader, but if the iPad becomes successful publishers may turn to Apple to sell their eBooks.
During a recent News Corp. earnings call, CEO Rupert Murdoch indicated that HarperCollins may follow Macmillan's example. "We don't like the Amazon model of $9.99," Murdoch told investors, according to a recap in MediaMemo. "We think it really devalues books and hurts all the retailers of hardcover books... Apple in its agreement with us, which has not been disclosed in detail, does allow for a variety of slightly higher prices."
Publishers seem more interested in protecting the value of their hardcover books than competing in a digital format. Will higher eBook prices convince you to purchase a physical copy of your next novel, or will accept a modest price increase given that eBooks are typically cheaper?
Posted by: Wes Finley-Price -- CNN.com Webmaster
Filed under: Amazon • Apple • books • e-readers • iPad