April 21, 2010
Posted: 11:00 AM ET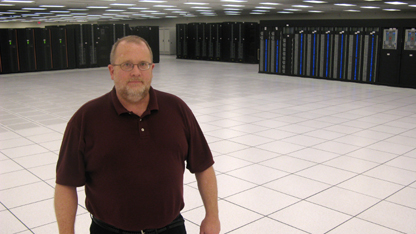 I visited the seventh-fastest computer in the world today, at the Lawrence Livermore National Laboratory, about an hour east of San Francisco, California.
At first, I thought the idea of "supercomputing" seemed pretty 1990s. Supercomputers fill enormous rooms, suck down gobs of power and don't seem quite as sexy these days as tech that can fit in your hand.
And seventh-fastest? I mean, it's not first.
But, on a tour of the federally funded lab, Brian Carnes, one of the managers of this supercomputer, taught me a thing or two.
First of all, the stats were impressive:
_ One computer network here can do more than 700 trillion math problems in a second
_ The computer sits on an area that's nearly the size of a football field
More important, perhaps, are the applications the supercomputer supports.
[Side note: I can't vouch for all that's going on on these whirring machines because much of it is classified and signs all around the computer area remind employees not to tell visitors too much: "Unclassified discussions only," one sign read].
Some scientists at this lab use huge equations and mounds of data to try to predict what our warming climate will look like in the future. The computer crunches those. Others are trying to predict what will happen to the country's nuclear weapons stockpiles as they age - which is a safety issue, Carnes says, regardless of your stance on nukes.
The lab here is in an arms race of its own these days.
By 2012, it plans to add a new computer to the system, called "Sequoia."
Then, Carnes and others hope, the lab will have the world's fastest computer.
That means more math problems per second. More scientific research.
And another point for bragging rights.
Posted by: John D. Sutter -- CNN.com writer/producer
Filed under: climate change • computers • data centers
November 4, 2009
Posted: 10:04 AM ET
On my scavenger hunt into cloud computing, I learned there are few if any ways to compare one cloud computing company to another. Say, for instance, you wanted to upload the contents of your laptop to "the cloud" of the Internet. It would be hard if not impossible to get a comparison about how well companies like Microsoft, Google, Amazon and IBM provide this service, which is sometimes called "cloud storage."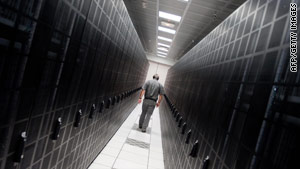 One emerging and important way to make these comparisons, though, is energy efficiency.
The computer farms that make up the cloud are energy-sucking machines. It costs more to cool the computers than to run them. The U.S. Environmental Protection Agency says 1.5 percent of all electricity consumption in the country in 2007 came from the data centers that house these cloud computers. And that electricity use is expected to double every five years as we store and process more info in the cloud. (View the EPA's full report to Congress on the subject).
But not all clouds are equal. And the EPA and an industry group called The Green Grid have made it part of their missions to give consumers ways to compare the emerging cloud power-houses.
In April, the EPA will unveil an "Energy Star" ratings program for data centers, according to Michael Zatz, manager of the EPA's Energy Star program for commercial buildings. The program is voluntary, so not everyone will report their efficiencies, but a number of companies, including Microsoft, are already on board.
Here's an site with more information on this emerging program for green data centers. Scroll down half-way to find a list of some companies involved. Also check out Green Grid for a list of computing companies that are working with that group towards a more energy-efficient future for computing.
And let me know what you think. Is it a big deal that so little information is available about cloud computing? What would you like to know that's not being shared?
Posted by: John D. Sutter -- CNN.com writer/producer
Filed under: climate change • cloud computing • consumer tech • data centers • Energy
Posted: 10:02 AM ET
Cloud computing appears to be growing like mad.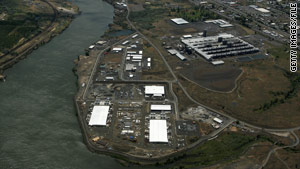 Instead of computing on our desktops and laptops, many people are moving the heavy lifting to data centers in secretive locations all of the world.
These centers are owned largely by big companies like Google, Amazon, IBM and Microsoft, which charge monthly fees to clients who want to move their IT "into the cloud."
This transition may seem subtle. But writer Nicholas Carr argues it's on pace with changes in the electricity industry a century ago that gave us the modern power utilities we have today.
I talked recently with Carr about his book, "The Big Switch: Rewiring the World, from Edison to Google" for a first-person story I wrote about the cloud.
In the book, Carr writes that people used to build small power-generation stations for individual factories and neighborhood blocks. As electricity became more common, and more important for industry, these small plants consolidated because it was more efficient - and so that power could be delivered to everyone across a large and complicated grid.
This is happening today with information. Businesses used to have computer servers in a closet or some back corner of the office. Many still do. But the new model is the cloud, in which these individual IT departments are outsourced to big companies who say they have several advantages: efficiency at a larger scale, expertise and higher reliability.
The U.S. government is jumping on board with the idea. It recently announced a "government cloud" project with Google.
Carr says we're at the beginning of a major information-delivery revolution.
For now, the cloud is rather scattered. A number of companies participate and some of the clouds are private or semi-private. Going forward, Carr expects the data centers to consolidate, leaving control of the cloud in the hands of a few mega-companies - kind of like electric utilities.
The big difference between power and information? Carr says regulations haven't caught up with the cloud.
As a result, it's unclear who owns some data stored in the cloud, and there are no standard file formats that would allow consumers to transfer their data - their photos, blogs, etc - from one cloud company to another, he said.
Posted by: John D. Sutter -- CNN.com writer/producer
Filed under: cloud computing • consumer tech • data centers