March 16, 2010
Posted: 08:07 PM ET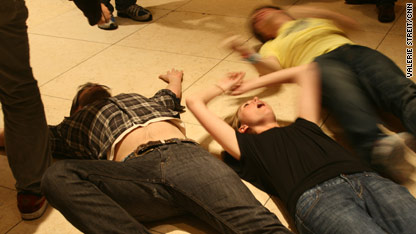 You see plenty of tech company founders and CEOs at South by Southwest Interactive in Austin, Texas – many of them building empires at the age of 20.
But you don't see very many "suits."
In fact, the prototypical SXSW executive probably looks more like a hipster than a businessman – sporting jeans, some trendy t-shirt and striped sneakers.
And, to make things all the more bizarre, you might even stumble upon one of them writhing around the floor of the Hilton lobby, as I did this year at the annual tech convention.
(This video will make it all make sense).
The executive, who was fully embracing the non-square nature of SXSW, was Foursquare co-founder Dennis Crowley. I spotted him in a spontaneous backstroke competition across the hotel lobby floor at 2:30 in the morning.  And, no, there wasn't a swimming pool involved.
Danny Newman of id345, an idea consulting firm, defeated Crowley in the match.  He told me I had witnessed an annual tradition, already in its fifth year.  Newman excitedly said that he remains undefeated in the contest.
He also said the backstroke-swimming execs have been kicked out of the lobby in previous years.
Not this year, though.  Perhaps Crowley and his buddies have earned enough street cred in Austin to 'check in' to any hotel here and do whatever they want.  Isn't that how rock stars act?
Posted by: Valerie Streit -- CNN.com Producer
Filed under: Foursquare • location • SXSW • SXSW Interactive • SXSWi
March 14, 2010
Posted: 02:15 PM ET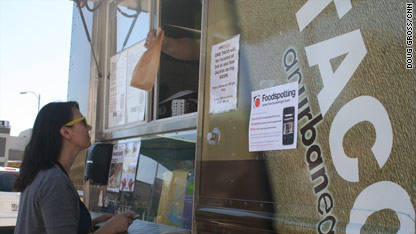 Location is obviously a big theme at South by Southwest Interactive this year - that emerging-technology conference that's going on this weekend in Austin, Texas. Whether you've elected to use Austin-based Gowalla or New York-based Foursquare, checking in and sharing useful tips with friends are the major tenets of these location-based applications.
But what if you took that concept one step further and consider a specific community?
I spoke with the co-founder of San Francisco-based Foodspotting.com about her Web site and mobile app that binds worldwide foodies together in a Foursquare-ish sort of way.
"The time was really right for something like this," said Alexa Andrzejewski, a user-experience designer from Adaptive Path.
Andrzejewski traveled to Japan and Korea, where she discovered and developed an appetite for street food.  She wanted to inspire Americans to learn about and appreciate other foods from Asia, "aside from sushi," she said. Plus, she wanted to help people to easily locate those dishes.
While in Asia, Andrzejewski noticed a phenomenon: passionate foodies were taking pictures of their fabulous dishes at restaurants and posting them to their social networks.  So she decided to create a location-smart food guide, à la Flickr, that would allow people to find, photograph and share specific dishes they crave.
Foodspotting launched in January, and it has since grown to 7,000 members.  The site features more than 20,000 kinds of foods worldwide.  As you would expect, the top cities are foodie havens - San Francisco, New York, and Honolulu.
"We're kind of like the Foursquare of food," says Andrzejewski, who launched the Foodspotting mobile app a week before SXSW.
Food spotters build their reputation whenever someone is enticed by the dishes you spot.  For example, you can earn ten points if someone 'wants' that pecorino crème brulee you managed to capture in some dessert habitat.  You'll get 25 points if someone nominates or 'noms' your dish.
Your guilty pleasures can even pay off in the form of badges - bronze, silver, gold, platinum - earned for spotting the same dishes and food types.  Addicted to tiramisu?  Spot it 50 times and you'll earn the platinum expert badge.
Andrzejewski says she plans to add more game-like features in the coming months.
Foodspotting also offers scavenger hunts for food enthusiasts.  I decided to attempt Foodspotting's 'SXSW Street Food Scavenger Hunt' in Austin with iReport Senior Producer Lila King.
Our first taste was a heavenly pancake taco at the One Taco truck.  I've never been a fan of breakfast burritos or even breakfast for that matter.  But let's just say if a pancake taco truck roamed the streets of Atlanta, I'd earn that platinum badge in no time at all.
Posted by: Valerie Streit -- CNN.com Producer
Filed under: Foursquare • location • social-networking sites • SXSW Interactive
March 9, 2010
Posted: 04:27 PM ET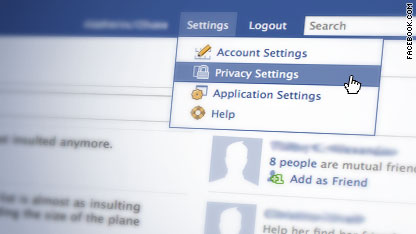 Beginning next month, Facebook may start telling its users not only what their friends are doing, but also where they're doing it.
The New York Times' Bits Blog says the popular online social network will announce this "location-based" feature at its upcoming conference, called f8. The conference takes place April 21-22 in San Francisco.
Site users, according to the post, will be able to add their locations to status updates on Facebook.
Similar location services are an emerging trend with online social networks. Some Web sites, like foursquare and Gowalla, are dedicated largely to telling your online friends where you are at any given moment. This is seen by some as a helpful way for friends to find each other and meet up in real life. It's also regarded as an advertising opportunity for businesses that can convince customers to post about their store visits on the Internet.
Other Web sites, potentially including Facebook, are starting to incorporate information about where people are into their existing set-up.
The Times' blog cites interviews with "several people briefed on the project," but the news of Facebook's location-based service has not been confirmed. A Facebook spokeswoman, Meredith Chin, told writer Nick Bilton: "We're constantly experimenting with new things around here, but we don't have any details to share right now."
On the tech blog Mashable, Adam Ostrow writes that location services are becoming an important part of the Internet at large:
With Facebook entering the space though, the other players will need to look to create value in ways beyond check-ins and knowing where your friends are located at any given point in time. That's why Foursquare seems to be so focused on partnerships and gaming, while Gowalla is making moves (as recently as last night) in virtual goods.

In any event, location remains the huge trend so far in 2010, and literally each day seems to bring new indications of which way it will all play out.
The LA Times technology blog says the Facebook news doesn't come as much of shock:
Not much of a surprise that Facebook is pushing into this space. It has more than 100 million mobile users. It hinted it would start a location service when it updated its privacy policy.

What kind of location service is open to interpretation. A big draw: geographically targeted advertising.
Assuming this report is true, do you like the idea of location-based features on Facebook?
Posted by: John D. Sutter -- CNN.com writer/producer
Filed under: Facebook • location