Adobe is not happy about the iPhone's lack of Flash support and the company is accusing Apple of unfairly restricting the technology.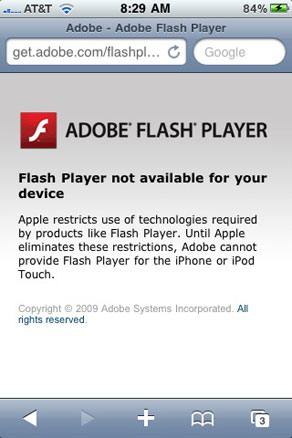 iPhone users who visit the Flash installation site are greeted with a not-so-subtle message claiming:
Flash Player not available for your device.

Apple restricts use of technologies required by products like Flash Player. Until Apple eliminates these restrictions, Adobe cannot provide Flash Player for the iPhone or iPod Touch.
Adobe Flash is a multimedia platform commonly used to add interactivity to Web sites. While it has been criticized for being resource intensive, Flash is still the most popular approach to to integrate animations and video into Web pages.
Since the iPhone's debut, the device's Safari browser has been unable to play Flash, and users routinely lament the loss of nearly all online video content.
Apple declined to comment, but some iPhone developers speculate Apple opted against a full Flash experience because of technical problems it could raise on the handset, such as battery drainage or sluggish web browsing.
Last summer's release of the speedier iPhone 3GS did not ease Flash restrictions. Apple may have chosen to block Flash not for performance reasons, but because interactive Flash applications and games could compete with the iTunes App store.
Do you agree with Adobe that Apple is unfairly restricting technology by limiting Flash on the iPhone? Or is the message on Adobe's Web site simply propaganda aimed to shift the blame from Flash's performance to Apple's anticompetitive nature?
Posted by: Wes Finley-Price -- CNN.com Webmaster
Filed under: Apple • cell phones • consumer tech • Gaming • iPhone • iPod • mobile phones
Google's phone service prides itself on simplicity. You get a Google phone number and then Google Voice forwards calls to your Google number to your home, office or mobile phone.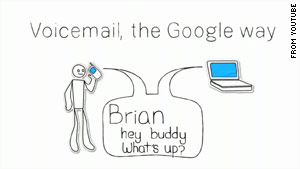 One number. One business card. Pretty simple.
But that approach creates another issue: To use Google Voice, you had to change your number.
On Tuesday, Google announced on its blog that that's not the case anymore. You can sign up for Google Voice with most any number you choose. One of the biggest advantages is that Google will - for free - transcribe your voicemail so you can read it online or in text messages. That way you don't have to listen to ramble-on info when all you want is the call-back number.
Here's a video that explains how Google Voicemail works.
There are still a few catches, though. The first is that you can't access all of Google Voice's features when you're using a non-Google number. That means you can't have calls forwarded from that number to other phones. And, for now, Google Voice is available by invitation only.
What do you think? Is Google Voice without the Google number useful? Do you think this will catch on in a big way? Let us know in the comments below.
Posted by: John D. Sutter -- CNN.com writer/producer
Filed under: Google • Google Voice • mobile phones