May 20, 2009
Posted: 09:32 AM ET
Music producer Danger Mouse wants you to download his album illegally. He is even going to sell you the blank CD-R to burn your ill-gotten tracks.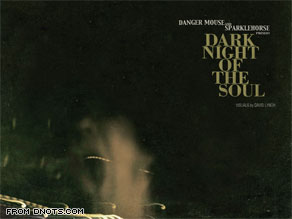 The "Dark Night of the Soul" book with blank CD-R ships May 29th, and the album again raises questions about how Internet technology can be used to distribute music - and what is or isn't ethical about the process.
DJ Danger Mouse, who is half of the pop group Gnarles Barkley, began stepping on record label EMI's toes in 2004 when he utilized internet outlets to distribute his self-published "Gray Album," which mixed songs from Jay-Z and The Beatles.
EMI, who owned rights to The Beatles' content, attempted to block the album, but people online responded by creating "Gray Tuesday," an organized protest where participating Web sites posted the unlicensed songs for public download. Now EMI is again attempting to prevent Danger Mouse from releasing "Dark Night of the Soul," but he's not one to let a legal dispute keep music from his fans.
A spokesperson for the DJ said: "Danger Mouse remains hugely proud of 'Dark Night of the Soul' and hopes that people lucky enough to hear the music, by whatever means, are as excited by it as he is."
Danger Mouse is still releasing "Dark Night of the Soul," but instead of a 13-track album the case will include a 100-page book of David Lynch photographs and a blank CD-R that is labeled: 'For Legal Reasons, enclosed CD-R contains no music. Use it as you will.'
Legally, fans can hear music from "Dark Night of the Soul" streamed on NPR Music. I listened to it last night and was impressed, but will anyone buy this new album when the music is already freely available?
Posted by: Wes Finley-Price -- CNN.com Webmaster
Filed under: file sharing • Music • piracy
April 30, 2009
Posted: 09:27 AM ET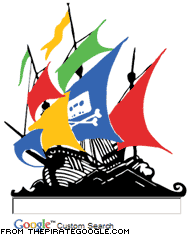 The Pirate Bay defendants may have been unsuccessful when they tried to compare their site to Google before a judge, but that didn't stop one anonymous web designer from launching The Pirate Google, a Google search gateway which tries to make the point that digital files can be accessed through Google as well.
Ars Technica scored an interview with the mysterious coder and he (or she) explained the site's intention.
"The purpose of the site was simply to provoke discussion on issues such as piracy, net neutrality, and the power of the Internet as a disruptor of more traditional forms of media."
While The Pirate Google doesn't add any additional search functionality, it clearly demonstrates Google's ability to satisfy a searcher's thirst for torrents, both legal and otherwise.
A short mission statement on the fledgling site's homepage reads:
This site is not affiliated with Google, it simply makes use of Google Custom Search to restrict your searches to Torrent files. You can do this with any regular Google search by appending your query with filetype:torrent.

The intention of this site is to demonstrate the double standard that was exemplified in the recent Pirate Bay Trial. Sites such as Google offer much the same functionality as The Pirate Bay and other Bit Torrent sites but are not targeted by media conglomerates such as the IFPI as they have the political and legal clout to defend themselves unlike these small independent sites.
Does the Pirate Google further the Pirate Bay's cause or is it simply rehashing an already failed argument? Will Google be the next victim in the entertainment industry's fight against the Internet?
Posted by: Wes Finley-Price -- CNN.com Webmaster
Filed under: file sharing • Internet • piracy • Uncategorized
April 20, 2009
Posted: 09:50 AM ET
There was plenty of online chatter this weekend about file sharing and Internet piracy.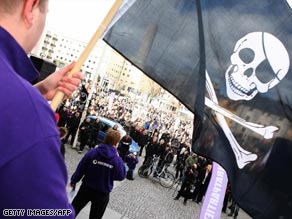 This follows Friday's news that four people who ran a popular file-sharing site called Pirate Bay were found guilty of violating copyright law in Sweden.
On Forbes.com, a Harvard professor says Google is the new Pirate Bay. The search engine serves the same function as the piracy sites by enabling people to steal copyrighted content, the professor says. An interesting example from the story:
By searching for pirated music or video, Google users can easily scan a range of lesser-known pirate sites to dig up illicit content. Those looking for the upcoming film X-Men Origins: Wolverine, for instance, can search for "wolverine torrent." The first result is a link to file-sharing site isoHunt, with a torrent tracker file that allows the user to download the full film. In fact, searches for "wolverine torrent" on Google have more than quadrupled since the movie file was first leaked to peer-to-peer networks on April 5, according to Google Trends.
DownloadSquad responded with a counterpoint to Forbes' story.
Ars Technica says the verdict is not surprising given the history of piracy prosecutions:
In the US, Napster was shut down even though it did not host files directly. When services like Grokster sprang up in Napster's wake and tried to make their services more decentralized to avoid even the appearance of control, courts still didn't accept the argument that they had clean hands.
On CNET.com, a writer wonders if we've reached a tipping point. Will illegal file-sharing soon come to an end? Here's the article's evidence of a regulatory crackdown:
Copyright owners around the globe have gone on the attack. They're backing antipiracy legislation in France and Sweden. They're lobbying Internet service providers in the United States to crack down on customers who download files illegally. They're pressuring hardware and software companies to prevent their products from being used as "pirate toolboxes." They're threatening legal action against Google and other sites that aggregate news without permission.
On the BBC, Paul McCartney spoke out in favor of the guilty verdict against Pirate Bay. Here's some of what he told the station:
"Anyone who does something good, particularly if you get really lucky and do a great artistic thing and have a mega hit, I think you should get rewarded for that."
Do you download pirated media? What should governments do about this issue? If you're an artist, what do you think? Feel free to weigh in with comments to this post.
Posted by: John D. Sutter -- CNN.com writer/producer
Filed under: file sharing • Internet • piracy