March 3, 2010
Posted: 04:09 PM ET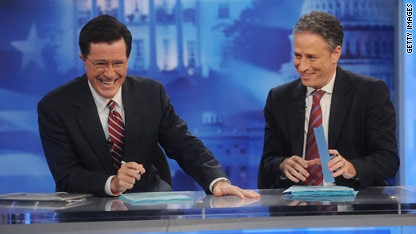 Comedic television hosts continue to be at the center of programming battles. Comedy Central, owned by Viacom, Inc., has decided to pull "The Daily Show with Jon Stewart" and "The Colbert Report" from Hulu.com, according to The Wall Street Journal.
As of March 9, Hulu will lose the rights to the two half-hour shows, but that doesn't mean they're disappearing from the Internet entirely. Full episodes will still be streamed on TheDailyShow.com and ColbertNation.com.
Andy Forssell, Hulu's Senior Vice President of Content and Distribution, characterized the split in a blog post as a parting of ways that may not be permanent, noting that Comedy Central's content had been incredibly beneficial to the free service.
"In the past 21 months, we've had very strong results for both Hulu and Comedy Central, in terms of the views and revenue we've generated, thanks to a couple of key trends," Forssell wrote. "First, more and more of our viewers have voted with their time by making these shows a regular part of their day. And second, we've driven steadily increasing revenue per view as advertisers voted with their budgets to take advantage of innovative ad formats and very strong advertising effectiveness."
So why the split?
"Maybe Viacom is hoping that viewership on its own air and websites will improve if the shows aren't available elsewhere," wrote Samuel Axon on the social-media news site Mashable. "We're also not sure exactly what caused the arrangement between Viacom and Hulu to end. Hulu simply said it was unable to secure the rights. Viacom might have asked for a financial deal the site was unable to agree to."
The news sparked much grousing online among Hulu users and fans of the shows.
"This sucks. Hulu is the future of TV, and the big execs at the studios know it, and they know it will kill their old revenue streams (subscriptions) so they're trying to kill it before it has a chance to mature," wrote a user named Chris in a post on Hulu's blog.
"Hopefully eventually the studios will see the potential for major revenue streams through sites like Hulu, but it won't happen until TVs come with a Hulu sticker & people can just tune in like another channel. That's the future – it's just a matter of waiting for the studios to realize it," Chris added.
Posted by: Breeanna Hare, CNN.com
Filed under: Hulu • television
February 12, 2009
Posted: 05:06 PM ET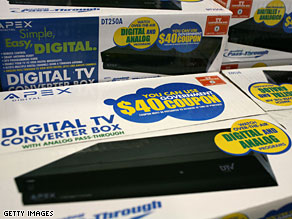 The date for the switchover was February 17th, then was pushed back to June, but some stations will still be switching early.
Since we last chatted about the DTV switchover
there's been some new developments –- the biggest of which being its postponement to June. Then nearly 500 stations told the FCC they want to go ahead and change to digital signals on the original February 17 switchover date. And now the FCC has rejected a quarter of those requests.
According to the latest TV Week article, the FCC is concerned with markets where all the major network affiliates wanted to switch early, leaving those unprepared for the change without news or emergency alerts.
So if you weren't confused about the deadline before, there's even more to muddy the waters now.
Your comments on my previous DTV post were very informative - especially the issue of digital signals not reaching as far as their analog counterparts - and I'm sure I'll get even more new perspective on this issue from what you have to say today.
Posted by: Cody McCloy
Filed under: Politics • television
January 30, 2009
Posted: 02:21 PM ET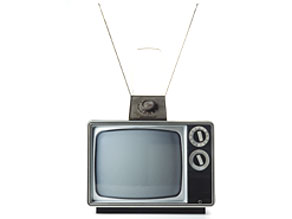 If your TV looks like this, pay attention!
So, February 17 is looming. You know, the date when our boring old analog signals are supposed to turn into 1s and 0s and go digital. You know what I'm talking about, right? You've seen the commercials all over the TV, I know you have. Right?
Still clueless? You're not alone.
Digital basically means that: digital vs. an analog signal. Think cassette vs. CD. It doesn't mean HD. Also, it's over the air only, so if you have cable you don't have to worry about it. (Don't listen if some undereducated or shifty customer-service rep uses the digital TV switchover as an excuse to badger you into buying an HD set-top box.)
If you have cable or satellite TV or already have a set-top box (unfortunately, Tivo's don't always count – check here for more info), you're covered. There's no need to go out and get anything. Also, if your TV is relatively new it's digital-ready, so you're automatically covered.
So who needs to worry? People who get their TV signals off any sort of antenna, bunny ears or aerial, should pay attention. You're the folks this switchover is aimed at. If your TV isn't equipped with a digital tuner (ATSC), you'll need a converter box.
Here's the next problem: The program that was giving out coupons for these boxes? They're out of money. I suspect this is because people had no clue whether they needed a box or not and got one, "just in case." (I know some people out there who claim to be tech-savvy and did exactly that.)
All this confusion has lead President Obama to ask Congress to delay the switchover until June, which some say will lead to even more confusion. The House disagreed, saying the switchover should take place in February as scheduled. Just to muddy the waters even more, there are plans for another House vote on the matter next week.
Still confused?? If so, you're not alone. And if this didn't help, here are some handy tools to help you figure it out:
FCC's fact page on DTV
DTV.gov – FCC's tranisition Web site
CNET explains the switchover
If you've found a handy widget you think explains all this better, please feel free to post it in the comments.
- Cody McCloy, CNN.com
Posted by: Cody McCloy
Filed under: television