KENNEDY SPACE CENTER – Predicting the weather is complicated. So is rocket science. When you combine the two – as they do whenever a space shuttle must fly, things can get pretty mind-boggling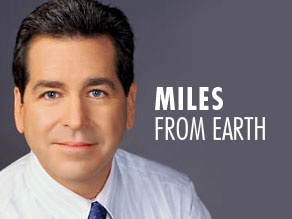 First, you need to understand the space shuttle is a complex web of contradictions – as well as a space vehicle.
It travels at twenty five times the speed of sound, and yet cannot safely pass through even a slight shower.
It can withstand temperatures approaching 3,000 degrees F during re-entry and yet is not rated to land in a cross wind that exceeds 17 knots (19 mph).
It has the finest navigational systems in the world and is flown the by best pilots anywhere, and yet it does not have the right stuff to be cleared to land through a cloud deck below 5,000 feet.
These are just some of the factors that come into play as mission managers make a decision on whether to launch. And their decision-making dilemma is unique in the world of space.
Years ago, I went to the Baikonour Commodore in the former Soviet Republic (you know, Borat's turf). The morning of the launch, the Soyuz rocket on the pad – which is much closer to the viewing area than it is here in Florida – was invisible to us – shrouded in pea soup fog.
This wouldn't have been a "no-go" for NASA – it would have been a "Hell-no-go!"
And yet the Russians lit the candle that day and the first crew of the International Space Station safely made it to orbit.
But there are some key differences between the vehicles. For one thing, the Soyuz is not covered in heat resistant tiles as fragile as your grandmother's china. For another, the Soyuz pilot does not have to safely glide his craft to a runway landing. If there is trouble, he simply pulls the magic handle, the capsule separates from the rocket and it heads to Earth for a relatively gentle landing beneath a parachute.
The next generation of US spacecraft will return to that concept – and that will mean happy landings and on-time launches for US spacecraft will not be so dependent on the whims of Mother Nature.
- From Miles O'Brien, CNN's chief technology and environment correspondent
Filed under: Uncategorized