KENNEDY SPACE CENTER – Less than an hour to go and the weather is better than initially predicted here. The cloud cover is within limits – so are the winds – and there aren't any rain clouds inside 20 miles from launch pad 39A.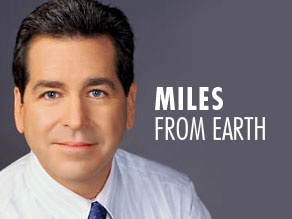 If only they could launch now, they would be on their way. Problem is – the shuttle does not have enough gas to make it to the space station unless it leaves the pad when the station is overhead.
It is kind of like a quarterback throwing a pass to his receiver. If he doesn't toss the football at just the right moment – the pass will be incomplete – or intercepted.
Think of the shuttle as the football, the station is the receiver, and the launch control team as the quarterback.
It all boils down to only about ten minutes each day when a shuttle can launch to the station. Today the middle of that window is 2:45 pm ET. The only weather that matters is what is happening in that narrow slice of time.
But so far so good – and so much for the better.
– From Miles O'Brien, CNN's chief technology and environment correspondent
Filed under: NASA • Uncategorized