Some scientists need a makeover. Or maybe just better publicists.
Geeky. Nerdy. White coats. Coke bottle glasses.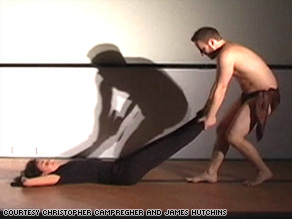 Not so, says John Bohannon, Science Magazine contributing correspondent, a.k.a. "The Gonzo
Scientist." Bohannon created the first-ever "Dance Your Ph.D." contest.
"Interpret your Ph. D. thesis in dance form, using no words or images," stated the rules.
"Scientists get a bad rap, mostly because of clothing issues," said Bohannon, a molecular biologist turned journalist.
A shimmering loincloth could change attitudes in a flash. And that's what archaeologist Brian Stewart, the winning entrant wore, wowing the judges with his emotional connection to the audience.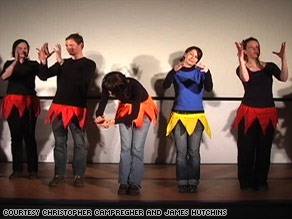 Stewart's thesis: "Refitting repasts: a spatial exploration of food processing, sharing, cooking and disposal at the Dunefield Midden campsite, South Africa."
And he managed to convey his five years of research and field study into a one -minute romp on the dance floor.
So how DO scientists dance?
"There's some awkwardness and some magic, sort of like at a wedding," said Bohannon.
Among the dozen contestants competing in Vienna, there was tap dancing, break dancing, and a group disco number. Bohannon says the analytical work of science can be all- consuming, and this was a chance for students, post-docs, and professors to cut loose.
Next year's contest is likely to be a YouTube event, so quantum physicists, anthropologists, mathematicians—scientists from anywhere in the world can dance their hearts out.
"If people, especially Americans knew how much fun science was, they wouldn't shy away," said Bohannon.
Have a look at all 12 of the videos here.
- Marsha Walton, science and tech
Filed under: Scientists