If you like birds, this Presidents Day weekend is the time to get out your binoculars. Thousands of birders, from novice to expert, will be looking skyward for the 11th annual Great Backyard Bird Count.
This event is not just for fun (although it is that).
Organizers of the Count want you to enter the types and numbers of birds you spot at www.birdcount.org . Last year, participants reported a record-breaking 11 million birds and more than 600 species. Scientists use the information to learn more about how birds in North America are faring and what that means for the environment.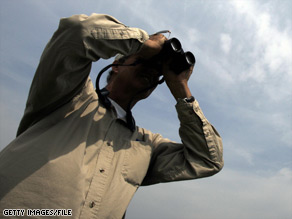 The Count includes an online photo gallery and contest.
But new this year - participants can upload video of their sightings on YouTube and tag it "Great Backyard Bird Count." The best clips will be posted on the Bird Count web site.
So whether you count robins for 15 minutes from your kitchen window, or make a four-day trek through an Arkansas swamp in search of the Ivory-Billed Woodpecker, the Great Backyard Bird Count wants to know what you see. Details are at www.birdcount.org .
- Diane Hawkins-Cox,  senior producer, CNN Sci-Tech Unit