We're in Daytona Beach watching NASCAR teams prepare for the 50th running of the Great American Race. What a rush its been so far... Day one we rode in the pace car for a few "hot laps". Which basically means you're hauling you know what round the track up to 140 mph. Wow that was a fast and very bumpy ride. Definitely rougher than you would think. The banks are 31 degrees which allows the big speed. We stopped on one turn and could barely stand on it. Our driver Brett Bodine winked and said "yup its like racing on the moon".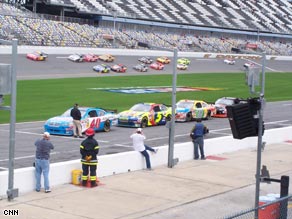 Back in the garage teams work on cars like surgeons with high tech precision making adjustments and trying to gain an edge. They run hard in practice and qualifying with average speeds round 180 mph. Ear plugs are a definite...rolling thunder would be a extreme understatement.
We followed the 5 car and Casey Mears for our high speed story pegged to weather. They don't run in the rain but temperature, sunshine, air pressure, and winds definitely play a huge role. Making adjustments/decisions based on changing weather conditions could put your car in Victory Lane.
- CNN's Rob Marciano and Alex Walker
Filed under: Weather