This post might have Kermit's undivided attention.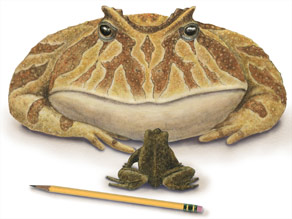 I just spoke with paleontologist David Krause at Stony Brook University who described an amazing find in Madagascar: a gigantic fossil frog. It was the size of a squashed beach ball and - at a whopping 10 lbs. - may be the heaviest frog ever.
The 16-inch ancient frog did its hopping at the end of the age of dinosaurs, about 65-70 million years ago. Krause's team started calling it the "frog from hell," which prompted fellow researcher Catherine Forster to give it the official genus name Beelzebufo.
She combined "Beelzebub," the Hebrew word for devil, with the Latin "bufo", meaning frog or toad.
But here's the kicker: Beelzebufo's closest living relative is half-a-world away in South America!
So how does a fossil group on an island off the east coast of Africa have contemporary cousins in the western hemisphere? Krause has started a bit of controversy. I'll explain in a bit.
Field researchers first discovered bits and pieces of the devil frog back in 1993, but it took 15 years to collect enough fragments – about 75 of them – to make sense of the skeleton.
Finally they had enough specimens to assemble about 75 percent of the animal's skull and 10 percent of its body. Knowing the anatomy of related forms, Krause suspected he had a froggy find. But he needed help in identifying what kind. He collaborated with fossil frog experts Susan Evans and Marc Jones of the University College London. Evans was the first to suggest that thought that Beelzebufo resembled the "ceratphyrines" of South America, which have enormous mouths.
In fact, some people call them "pac-man" frogs after the big-mouthed videogame character from the 1980s. Evans and Jones concluded that the discovery of Beelzebufo is the first time fossils in Madagascar have been connected with living relatives in South America.
You can read their complete findings in the journal Proceedings of the National Academy of Sciences (PNAS).
So why is the Madagascar-South America link controversial? Frogs like these don't disperse over big bodies of water, so you need a land connection.
Paleontologists like Krause have to look millions of years back in time, to when scientists think the enormous "Pangaea" supercontinent connected most of the world's landmasses.
Most geoscientists think that Pangaea broke into two supercontinents about 180 million years ago ("Gondwana" to the south and "Laurasia" to the north), and that Gondwana's break-up about 160 million years ago separated Madagascar from Africa.
But if Beelzebufo existed around 65-70 million years ago – and is in fact related to South American ceratphyrines – it means that Madagascar was not isolated from other land masses by that time.
Krause says this is a fairly hot debate in scientific circles. The question also lingers whether Antarctica – which was much warmer in the Late Cretaceous period – could have been the land connection.
- CNN's Alex Walker
Filed under: Animals