Of all the issues on Earth, the values of clean air and a healthy environment aren't where you would expect to find a broken government and political gridlock.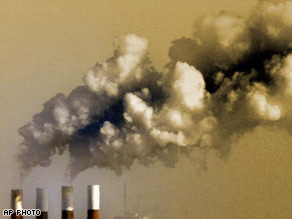 Concerns about global warming, endangered species, energy and water supplies are mounting and many see the environment as the staging ground for a great train wreck between science, politics, money and ideology.
CNN's "Broken Government: Scorched Earth," examines tangled policies and ambitions and finds that the federal government has often stood in the way of environmental solutions. And, in some cases, well-intended programs have made problems worse rather than better.
In the Badlands of South Dakota, rancher Marv Jobgen is less than thrilled to share his federally-subsidized grazing land with prairie dogs, which are competing with his cattle to graze on grass. One federal agency hopes to expand a prairie dog poisoning program - on the same land where a rival federal agency is working to save the prairie dog.
The rodents may be competition for Jobgen's cattle, but they're dinner for the highly-endangered black-footed ferret. The ferrets are staging a government-backed comeback from the brink of extinction, but it all may be imperiled when the same government begins poisoning their food supply. Jobgen's frustration is shared on all sides: environmentalists, government biologists who oversaw the ferret's recovery, and ranchers.
"That's what happens when you get agencies where nobody talks to anybody," says Jobgen.
"Scorched Earth" also takes viewers to Iowa, the so-called "Kuwait of the Midwest," where an estimated 30 percent of the nation's corn crop is now grown - not for food - but for fuel. Corn is being touted as a "green" alternative and an antidote to America's addiction to foreign oil.
But a backlash is building as some researchers find growing corn for fuel may actually cost more than it saves. Some experts have also blamed the corn crop for the explosive growth of the "Dead Zone" thousands of miles downstream at the mouth of the Mississippi River, where this nearly oxygen-free ocean area is wreaking havoc on the catches of Louisiana fisherman.
We also traveled to El Paso, Texas, where a century-old copper smelter stands amid a bleak landscape of lead pollution and health impacts, which some medical experts have linked to pollutants from the smelter.
Shuttered since the late '90s, when copper prices hit rock bottom, ASARCO recently got permission to reopen the plant. Even though ASARCO declared bankruptcy two years ago, citing "environmental liabilities" which may total $11 billion, the company recently received clearance to reopen. Some bankruptcy experts, local residents and city leaders are crying foul and say federal laws are protecting the company from paying cleanup costs.
– Miles O'Brien, CNN Science & Technology Correspondent
Watch "Broken Government: Scorched Earth" on Thursday, February 21, at 11 p.m. ET, immediately following the CNN Debate live in Austin, Texas.
Filed under: Politics