One word you hear time and again in the world of video games is "community."
Whether you're talking about gamers playing together online or attending a summit of creative pros, there is a true sense of camraderie within the "gaming community."
Among the thousands of creative professionals attending GDC looking for not only the latest tools to help them in their craft, but also at the developments of their colleagues, there are just as many games enthusiasts trying to break in.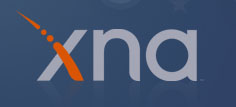 Producers and developers use GDC in their efforts to recruit new talent each year, but for amateur coders unable to attend, opportunities to show their talents can be elusive.During Microsoft's keynote address on Wednesday, John Schappert unveiled an exciting new opportunity for amateur programmers looking to "level-up" to pro with the addition of "Community Games" to the industry leading Xbox Live.
Expanding on the successful release of XNA Game Studio, "Xbox Live Community Games" will accept submissions from amateur programmers for consideration to join the Xbox Live suite of downloadable games.
Chris Satchell of XNA studios revealed the details of the program in which games submitted to the community are then reviewed by the community. Those games that receive the highest overall reviews are then eligible to make the leap to Xbox Live where they can be downloaded and played by any of the service's millions of members.
Calling it "the democratization of games," Microsoft is hoping that by opening the doors to anybody who wants to create – the next generation of up-and-coming talent will do more than get a foot in – and possibly blow it right off its hinges.
Watch: Get Your Game On
– Matt West, CNN Entertainment Producer
Filed under: Games • Gaming • Uncategorized