Unless technical problems crop up or last-minute bad weather presents itself, the shuttle Endeavour will rocket into space in a dramatic night launch at 2:28am ET on Tuesday March 11.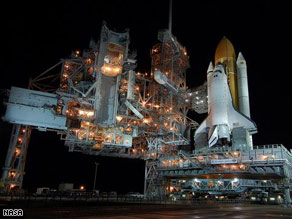 Shuttle Endeavour rolls out to launch pad 39A at the Kennedy Space Center in Florida on February 18, 2008
That's the word from NASA managers who wrapped up Endeavour's flight readiness review today at the Kennedy Space Center in Florida, and officially cleared the shuttle to fly.
Endeavour astronauts will deliver and install the first of several components of the Japanese laboratory complex to the International Space Station, as well as a Canadian-built robotic arm called Dextre.
The 16-day mission, designated STS-123, will be the longest shuttle visit to date to the International Space Station. It will be the 122nd shuttle flight, the 21st flight of Endeavour, the 25th shuttle mission to the ISS, the 97th post-Challenger mission, the ninth post-Columbia mission, and there will be 12 more shuttle flights (including this one) remaining in the shuttle program before NASA retires the fleet in 2010.
The Endeavour astronauts, led by Commander Dom Gorie, will conduct five spacewalks to install the new hardware, tinker with a malfunctioning rotating solar array, and test tile repair techniques.
Endeavour's mission comes close on the heels of the STS-122 flight of Atlantis, which landed just nine days ago. That shuttle crew delivered and installed the European Columbus laboratory onto the ISS. Now that the Japanese components are going up, the station is really starting to take on a multinational character. The three-member station crew currently consists of American Peggy Whitson, Russian Yuri Malenchenko, and Frenchman Leo Eyharts – though Eyharts will be replaced with U.S. astronaut Garrett Reisman who is flying up on Endeavour. If all goes as planned and the build-out of the station continues on track, the ISS crew will expand to six members next year.
If you are really a shuttle junkie, check out NASA TV on Monday. Flight controllers at the Johnson Space Center in Houston will be holding a series of briefings for the media to go over the plan for the mission in detail ... and in the afternoon the crew will answer questions at a press conference. Here's the schedule for all that if you want to check it out.
All times are Eastern ...
9 a.m. – STS-123 Program Overview Briefing
10:30 a.m. – STS-123 Mission Overview Briefing
12:30 p.m. – STS-123 Spacewalk Overview Briefing
2 p.m. – STS-123 Crew News Conference
6 p.m. STS-123 Mission Specialist Takao Doi News Conference to Japan
–Kate Tobin, Senior Producer, CNN Science & Technology