Talk about having the camera pointed in the right direction at the right time! Check this out ... an avalanche on Mars, courtesy of NASA's Mars Reconnaissance Orbiter or MRO.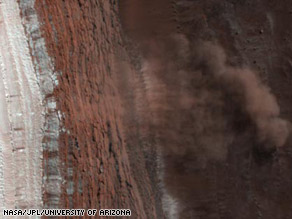 MRO is one of three spacecraft currently in orbit around Mars. Its onboard camera shot the avalanche on February 19 as part of a routine photo survey of the icecap covering the north pole. The dust cloud caught the sharp eye of Ingrid Daubar Spitale of the University of Arizona, Tucson, who works on targeting the camera.
Scientists say the avalanche is a mixture of carbon dioxide ice and dust that is tumbling down a 2,300-foot slope at the edge of the icecap. Exactly what triggered it is unknown - but could be part of the springtime thaw, a Mars-quake, or a meteorite impact.
And if there was any doubt about the high resolution of the MRO camera, check out this picture of the Earth and Moon from Mars, also just released. Trivia question of the day: What's the distance between the Earth and Moon? Answer here.
–Kate Tobin, Senior Producer, CNN Science & Technology