"Houston, Tranquility Base here. The Eagle has landed."
–Neil Armstrong, July 20, 1969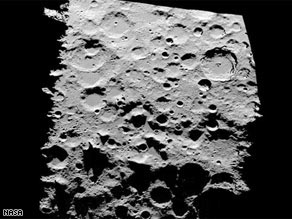 Short of "one small step for man, one giant leap for mankind," those are the most famous words ever spoken on the moon. NASA selected Tranquility Base, landing site of the Apollo 11 spacecraft, for its smooth topography and easy aerial approach. But as NASA starts planning for a return to the moon at the end of the next decade, scientists and engineers are picking a landing site using a very different set of criteria. And so far the rim of the Shackleton Crater near the lunar South Pole is emerging as a leading contender.
NASA recently debuted these new high resolution images of the area, captured using the Jet Propulsion Laboratory's Goldstone Solar Radar in California's Mojave Desert. These images are 50 times better than any previous pictures of the area.
One thing is sure, the terrain in the area is rugged, with peaks as high as Mt. McKinley and crater floors four times deeper than the Grand Canyon. But experts say the area is ideal for hosting a lunar outpost, despite the rough landscape.
The South Pole is illuminated with sunlight for a substantial portion of each day, so solar panels could be designed and deployed to provide an outpost with a strong, steady flow of electricity. Also, data from the orbiting Lunar Prospector spacecraft indicated large deposits of hydrogen at the South Pole, possibly in the form of water ice. If that ice could be mined, the water could be used for drinking – or the oxygen could be separated out for breathing or even to make rocket fuel.
NASA is ramping up plans to return astronauts to the moon in the 2018-2020 time frame. The Constellation Project is developing both a new generation of heavy lift rockets and a new manned capsule called Orion. If all goes as planned, manned test flight should begin around 2015.
–Kate Tobin, Senior Producer, CNN Science & Technology