Known for being nutritious, sweet, cheap and readily available, bananas are definitely popular. But did you know that in five to ten years banana experts say this tasty fruit could disappear?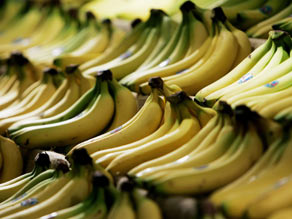 Well, not all bananas of course, but the variety we eat called the Cavendish. A malady named Panama Disease, threatens to wipe this variety from fruit stands and cereal bowls around the world. One problem is that every Cavendish banana we buy at the grocery store is a clone from the first one found in Southeast Asia and brought to the Americas in the early 20th century.
It's a seedless banana that can only grow from another of its kind, and even though it was once resistant to Panama Disease, a fungus that affects the leaves, it mutated over time leaving the Cavendish vulnerable to the new strain.
Our grandparents ate a different kind of banana called Gros Michel, one that became extinct due to Panama Disease. The Cavendish replaced it, and even though many people found the Gros Michel a superior banana in taste and texture, this new variety quickly became the most popular fruit in the United States, surpassing apples.
The fungus that is currently affecting Cavendish crops in Asia could eventually hit banana crops in Central and South America. In the meantime, researchers are busy trying to find a replacement for the Cavendish because they say it's only a matter of time before the world's perfect food is gone for good.
–Paulo Nogueira, Producer, CNN Science & Technology
Filed under: environment • Scientists