For a few dozen seconds early Tuesday morning the darkness of night turned into what looked like day at the Kennedy Space Center.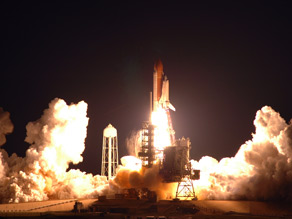 At 2:28 a.m. Launch Complex 39 – including the huge vehicle assembly building and the neighboring press center – were relatively dark. The parking lot lights had been turned off for the launch. Clouds obscured the moon and the stars. In the distance – about 3 miles away – huge flood lights made a giant X in the sky as they illuminated the space shuttle Endeavour sitting on its launch pad.
As the press center's giant countdown clock ticked down, NASA commentators calmly called out the remaining seconds over loud speakers – "3 – 2 – 1." The first sign something was happening on the pad was the smoke that billowed from the sides of the rockets. Quickly a bright light emerged as the more than 4 million pound "stack" of the orbiter, the external fuel tank and the solid rocket boosters silently lifted into the sky. The bright light in their wake looked almost like a sunrise - in high speed.
The next part of the launch experience was the rattle of the engines. Seconds after seeing the bright light the sound of the rockets reached the press site. First there was a soft rattle that grew louder and louder. At full volume you could feel the vibrations as the sound waves slammed into your body. The sound was so intense that car alarms in the parking lot start to go off.
As the shuttle continued to rise into the night sky the area around the press center grew brighter and brighter. At full intensity it became so bright you would think the sun was out. Then almost as quickly as the light dawned the shuttle slipped into the clouds. The rockets illuminated them from above and then rapidly dimmed as the shuttle rocketed away.
There is nothing quite like a space shuttle launch up close... and that's doubly true for a night launch.
–CNN Producer Aaron Cooper at the Kennedy Space Center in Florida
Filed under: NASA