Where is it, you might ask??? Some astronomers say Mars, others claim it's Jupiter's moon Europa, and still others tout Titan, one of Saturn's satellites.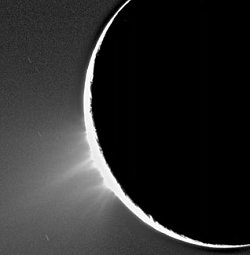 But recently a new candidate has entered the field: Saturn's moon Enceladus. That's pronounced "in-SELL-uh-duss." Two years ago the Cassini spacecraft, which is currently studying Saturn and its moons, flew by Enceladus and captured images and data showing Yellowstone-like geysers containing water erupting from the south pole. That, in turn, suggested pockets of liquid water, maybe even an ocean, may be lurking very near the surface. And, as any good astrobiology buff will tell you, wet places in the solar system will be the best places to look for extra-terrestrial microbial life. While there was no smoking gun, it sure got a lot of scientists' attention. And Enceladus shot to the top of the list of places we might want to know a lot more about.
On Wednesday, Cassini will make its closest flyby ever of Enceladus, flying just 30 miles above the moon's surface, eventually passing directly over that south polar plume. It is one a series of Enceladus flybys that Cassini will execute this year, and it will be the closest yet to any object in the Saturn system.
Instruments aboard the spacecraft will be able to determine what sort of other chemicals are in the geyser spray...which should help planetary scientists better figure out what's going on with this intriguing moon.
–Kate Tobin, Senior Producer, CNN Science & Technology
Filed under: Astrobiology • Space