Remember in math class when you had to multiply the diameter of a circle by a number called "pi," approximately equal to 3.14, to get the circumference? Maybe you'd rather not remember that. But don't underestimate this number. Pi has captivated the human imagination for thousands of years, and will be celebrated during Pi Day, observed on March 14, 3/14.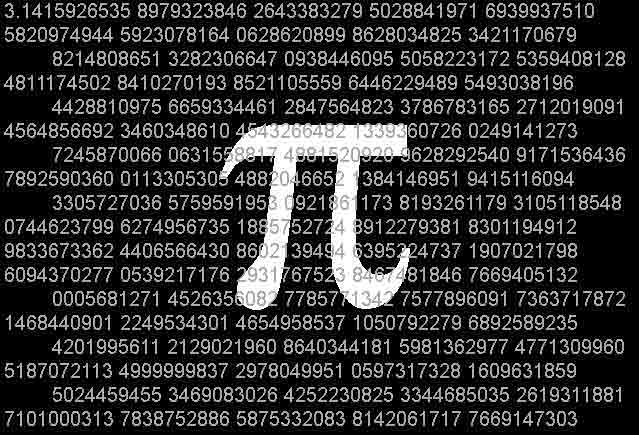 Before you join the math fest, take note that you can't calculate pi on your cellphone. There are approximations like 22/7, but no simple fraction will give the exact number. And while great mathematicians throughout history toiled over uncovering more digits, pi doesn't stop at 3.1415926535897932384626. These digits continue infinitely in an apparently random pattern that will never repeat. More than a trillion digits have been found so far, according to the Web site for the indispensable book The Joy of Pi.
Pi Day offers a fun reason to learn more about this fundamental constant and, of course, eat more pie. The Exploratorium in San Francisco will hold pie tossing events, along with educational lectures, on Pi Day. Other Web sites like TeachPi.org give suggestions for pi activities in the classroom.
If you have a knack for remembering things, try memorizing pi. The number's mysterious, infinite string of digits has inspired some people to take up memorization as a sport. The current world record holder for memorizing pi is Chao Lu of China, who recited 67,890 digits from memory in 2005, according to the Pi World Ranking List.
Pi has also inspired poets, artists, and musicians. A poem called Poe, E: Near a Raven encodes 740 digits of pi, where each word represents a digit based on the number of letters in that word. Try that technique: see, a nerd a month considers pi.
Before you start writing, memorizing or baking, you'd better look the part. Web sites such as ThinkGeek sell pi attire. Givenchy even markets a perfume called Pi.
And don't forget to wish Albert Einstein happy birthday. The physicist would turn 129 years old on this year's Pi Day.
–Elizabeth Landau, Associate Producer, CNN.com
Filed under: Mathematics