The giant panda may be beloved for its wide-eyed cuteness, but a slew of mysteries lie beneath its furry surface. Scientists at the Beijing Genomics Institute at Shenzhen will explore the genetic underpinnings of this endangered species through the newly-announced International Giant Panda Genome Project.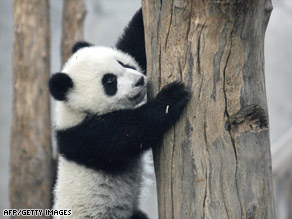 The genome project could provide important information for panda conservation, and contribute to the protection and monitoring of this rare creature. There are only about 1,600 giant pandas alive today, and their reproductive rate is low, says the San Diego Zoo. What's more, humans invading panda habitats may create bamboo shortages or render the pandas homeless entirely. Pandas also fall into hunting traps.
Sequencing the giant panda's genome will help scientists better understand pandas in the present and the past, the genomics institute says in its announcement. The results of the project could help determine how big the giant panda population has been historically, to what extent these creatures currently inbreed, and other unsolved panda questions.
The giant panda's genome is about the same size as yours, and is thought to have between 20,000 and 30,000 genes, BGI-Shenzhen says. Though there has been speculation over the giant panda's relationship to raccoons, genetic research has revealed that pandas belong to the bear family.
Besides being the subject of this study, the giant panda is a mascot for the 2008 Olympic Games in Beijing. The animal is also a hit on YouTube - this video of a baby panda sneezing has received more than 8 million views.
–Elizabeth Landau, Associate Producer, CNN.com
Filed under: Animals