When you think about discarded tires, you probably think of huge mounds of unwanted rubber, serving as mosquito motels and home to never-ending tire fires.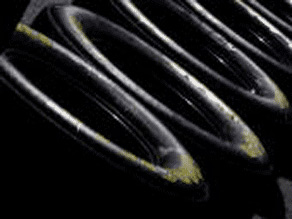 Well, according to the Rubber Manufacturers Association, that's not as much of a problem as it used to be.
As I was gathering information for our Powdered Tires story, I spoke with Mike Blumenthal, senior technical director for the Rubber Manufacturers Association. He told me that there's been a metamorphosis in tire re-use over the past 17 years, and that the industry is still evolving at a rapid pace. He said in 1990 more than ONE BILLION tires lay neglected in tire dumps, but today that number is down to fewer than 188 million. That's remarkable, especially considering that we manufacture more tires now than in 1990.
Entrepreneurs are striving to find all sorts of uses for discarded tires. Blumenthal said the most popular market is for fuel. Tires burn like coal, except cleaner and hotter. But the fastest-growing use is for making products like belts and hoses and for mulch and cover for playgrounds and sports fields. I recently tested out a playground covered with rubber chips. Wish they'd had that when I was a kid – would have saved me a lot of bumps and bruises.
If you want to do your part in reducing the number of tires being discarded, The Rubber Manufacturers Association recommends the following:
Purchase longer-tread life tires
Rotate tires every 5,000-8,000 miles
Once a month or before every long trip, check to make sure tires are inflated to recommended air pressure levels
Balance tires when rotating them
The RMA has a lot of other useful and interesting facts at http://rma.org/scrap_tires/scrap_tire_markets/facts_and_figures/
Got to go now – time to rotate my tires.
Diane Hawkins-Cox
Senior Producer, CNN Science and Technology Unit
Filed under: environment • recycling • Tires