Scientists grabbed headlines last fall when they announced that arctic sea ice cover plummeted to all-time record summertime lows in 2007 – raising the scary spectre that global warming may be pushing some frozen parts of our planet beyond the ability to bounce back.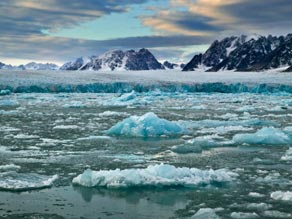 Now new satellite data from NASA and the National Snow and Ice Center at the University of Colorado at Boulder indicate the ice cover has returned to pre-2007 levels over the winter, which was colder than in recent years. Even so, the overall trend is negative. The current sea ice extent is still below the long-term average by about 250,000 square miles, an area almost the size of the state of Texas. And since 1996 it has been decreasing at a rate of 10.7% per decade.
Prospects for the future are also grave. That's because the ratio of older, thicker "perennial" ice that never melts to younger, thinner "seasonal" ice that melts and refreezes every year is shifting dramatically. Back in 1985, more than half of all arctic sea ice was of the hardy perennial type - 4 to 6 feet thick. Today, the extent of perennial ice has dropped precipitously - nearly 70% of all sea ice is seasonal.
How much of the sea ice will melt this summer? Scientists say it is hard to tell, because what happens any given year is highly dependent on specific weather events. But the clear overall trend is toward reduced extent of increasingly thinner ice.
–Kate Tobin, Senior Producer, CNN Science & Technology
Filed under: Uncategorized