For all you geckophiles out there who may still be basking in the gecko-fix we gave you last week at the cnn.com/TECH page on the topic of gecko bandages, you may be interested to know there is more gecko-news this week.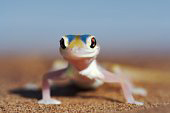 Geckos, of course, are known as some of the most sure-footed climbers in the animal kingdom...with hairy toes that can stick and unstick themselves to a surface in just milliseconds, making it possible to run 15 body lengths up a vertical incline in 1 second flat. Fast, yes...and stable too. But what happens if he misses a step?
Publishing in this week's edition of the Proceedings of the National Academy of Sciences, researchers from the University of California, Berkeley shot high-speed film of geckos running up a vertical climbing surface that had been outfitted with a slippery patch. Slow motion playback clearly shows that when the gecko looses his footing, he instantaneously swings his tail into action - tapping it down like a fifth leg to stabilize himself. In extreme cases, he even plants it like a kickstand to give himself a chance to recover.
What if he should fall? It turns out geckos are like cats...they always land on their feet. The tail comes into play there, too...the gecko rotates it in midair until he rights his body in time to glide to a graceful landing.
So what are the practical implications of this research? Engineers are already putting it to work, designing gecko-inspired climbing robots that are programmed to put their tails to good use.
–Kate Tobin, Senior Producer, CNN Science & Technology