A robotic spy plane currently under development would be perfect for Batman – that is, if he were smaller than a paper clip.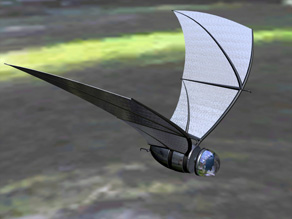 Source: Eric Maslowski, research computer specialist in the University of Michigan 3D Lab
Researchers sponsored by the U.S. Army are not designing this small bat-like aircraft to have passengers. Instead, the six-inch-long plane will direct itself, collecting information in urban combat zones and sending signals to soldiers through radio, the University of Michigan News Service said.
Dubbed "the bat," this small autonomous aircraft would incorporate a navigation system and a tiny low-power radar to get around in the dark. Soldiers could get real-time information from the little robot as it perches on a building, for example.
The Army is joining forces with industry and academia to make the concept for the vehicle a reality. Each of four designated research centers has the mission of developing a different bat-like subsystem of the little robot.
Researchers at the University of Michigan, which received a $10 million Army grant for the project, say they expect to develop an autonomous navigation system 1,000 times smaller and more energy efficient than mechanisms currently in use. This would allow the plane to move by itself, without a third party directing it. They also expect to develop a communication system 10 times smaller than current technologies.
Live bats find their way around by generating sounds and using the echoes from those sounds to determine their distance relative to objects, as well as the size and direction of objects. This navigation system is called echolocation.
The robotic plane will also have auditory sensitivity, using small microphones to gather sound waves from different directions, that will enable sophisticated navigation in the dark. But this bat is not blind – researchers also envision the little aircraft to have stereo vision through small cameras.
The bat may also be able to determine whether there's nuclear radiation or poisonous gas around, using special sensors.
–Elizabeth Landau, Associate Producer, CNN.com
Filed under: Animals • robotics