NASA's Cassini spacecraft has made yet another stunning find during its tour of Saturn and its moons...evidence of an underground ocean of water and ammonia on Titan.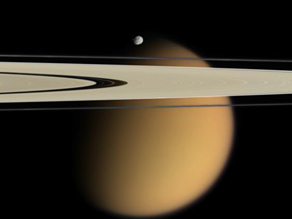 Cassini image of Saturn's A and F rings along with the tiny moon Epimetheus and the giant moon Titan. Source: NASA/JPL/Space Science Inst.
The new data was gathered using Cassini's Synthetic Aperture Radar during 19 flybys of Titan since late 2005. The spacecraft's optical cameras don't work so well with Titan because the moon actually has a thick atmosphere and appears constantly shrouded in a smoggy haze. But the radar can penetrate through that, and scientists were able to map out the location of 50 "landmarks" like lakes, canyons and mountains.
There is just one problem: the landmarks appear to be shifting around, sometimes by as much as 19 miles from their expected location.
What could explain it? Writing in the journal Science, Cassini scientists say the most plausible answer is that the icy crust of the moon is moving around on top of an internal ocean.
A decade ago, scientists working with the Galileo spacecraft on its mission to the Jupiter system concluded from magnetic field data that the moon Europa also harbors a salty ocean under its ice sheets. They think Europa's ocean could be as close as 4.7 miles to the surface. The Cassini folks think Titan's ocean is deeper down, 62 miles beneath the ice and ground.
Of course, where there is water, astrobiologists will be interested in looking for life forms...so Titan almost certainly just bumped up a few notches in their estimation.
Cassini deployed a probe called Huygens that actually landed on Titan back in 2005, sending back these remarkable pictures from the surface. Titan has long fascinated planetary scientists because of its high concentration of organic chemicals like methane and ethane. They say conditions there are similar in many ways to those on Earth billions of years ago, before life began here. Study of Titan could better help researchers understand how the early Earth evolved.
–Kate Tobin, Senior Producer, CNN Science & Technology
Filed under: NASA • Saturn • Space • Titan