Scientists from the U.S. Geological Survey predict that two thirds of the world's polar bears will disappear in the next 50 years because of declines in Arctic sea ice.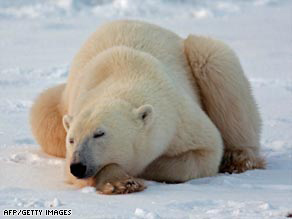 But those dire findings don't seem to be lighting any fires under those making decisions about how to protect the majestic animals. The U.S. Fish and Wildlife Service was required to finalize its decision to list the polar bear as a threatened species by January 9 of this year.
As CNN reported earlier this week, Fish and Wildlife Director Dale Hall admitted his agency had missed the deadline, in an effort he said, to be thorough. That was January 17.
Now the Senate Committee on Environment and Public Works wants some answers.
Senator Barbara Boxer, (D-CA) who chairs that committee, is requesting that Secretary of the Interior Dirk Kempthorne (Hall's boss) appear at a hearing next month to answer questions about the continued delay.
"It is time for the Interior Secretary to answer questions about the administration's continued foot-dragging on the polar bear listing. Secretary Kempthorne must explain to the American people why his department has failed to follow the law and why they still haven't issued a final decision to protect the polar bear," Boxer said in a statement from the committee.
Will Kempthorne show up? In an e-mail, his press secretary told CNN: "The Secretary has a great deal of respect for Senator Boxer. We will respond to the Senator's request in a timely manner."
Perhaps complicating polar bear habitat issues, Interior officials have moved forward on approval of $2.7 billion in oil and gas leases in the Chukchi Sea. That area between Alaska and Siberia is home to about twenty percent of the planet's polar bears.
–Marsha Walton, Producer, CNN Science and Technology
Filed under: environment