NASA officials have directed the Mars Exploration Rover (MER) program to cut $4 million dollars from its $approximately 20 million dollar budget this year, and principal investigator Steve Squyres tells CNN that will likely mean science operations will have to be suspended for Spirit. The rover would be put in hibernation mode, and if all goes well it could be reactivated in the future in the event funding is restored.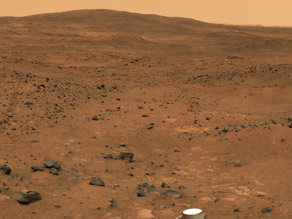 Source: NASA/JPL-Caltech/Cornell
NASA Headquarters spokesman Dwayne Brown confirmed the budget directive has been issued. He said the reason behind the cut is to offset cost overruns with the Mars Science Laboratory, a follow-on rover set to launch next year.
NASA spent $800 million to build and launch Spirit and its twin, Opportunity, to Mars. They landed about 3 weeks apart in January 2004, on opposite sides of the planet from each other. Both were designed for 90 day missions, but are still operating more than four years later. Designed to be robotic geologists, the two rovers have examined Martian rocks and soil, looking for tell-tell signs of water. Opportunity hit "pay dirt" when it found evidence that salty sea once stood on in the area that is now called Meridiani Planum. Spirit has roamed miles from its landing site and climbed high into the "Columbia" hills inside an area called the Gusev Crater.
Squyres says the money will mean job cuts in the staff of about 300 scientists that operate the rovers and analyze the science findings. Those staff reductions likely will mean that they have to suspend science operations for one of the rovers, and Spirit is the likely candidate because it is currently riding out the Martian winter in a parked position.
Squyres says he and his team will put together and issue a plan to NASA officials before they do anything, so it is unclear exactly unclear when Spirit's science operations will be shut down. But he says he has been told to expect a $8 million budget cut in fiscal year 2009 funding.

–Kate Tobin, Senior Producer, CNN Science & Technology
Filed under: Mars • NASA • Space