Animals may not model swimsuits, but they still need to avoid becoming overweight. Zoos are getting savvier about nutrition for their captive wild animals, coming up with more ways to curb obesity and related problems like diabetes and cardiovascular disease.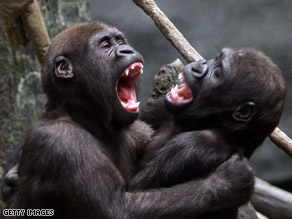 The Brookfield Zoo outside Chicago puts gorillas like these on a diet system like Weight Watchers, staff nutritionist Jennifer Watts told CNN affiliate WLS. Each food item has a specific point value attached, and animals have limits for how many points they can accumulate. A gorilla gets two points for a cube of sugary fruit juice, while a polar bear gets one point for each of its beloved granola bars.
Zoo Atlanta doesn't use an official point system, but strives to provide a low-calorie, healthy diet for its animals too. This zoo has moved away from fruit juices for primates – now their orangutans and gorillas get Crystal Light. It may have less sugar, but they like the low-calorie alternative just as much, the zoo's senior veterinarian Dr. Maria Crane said in an interview for this blog.
Zoo animals have a particular risk for becoming overweight because they do not have to forage or hunt for food the way they would in the wild, Crane said. To encourage the animals to move about, zoo staffers put food in the enclosed habitats such that the animals have to go forage for it.
"As we use food for enrichment also, it not only contributes to physical needs of animal but also psychological needs," she said.
The same principles for people who are maintaining good body condition go for animals, such as "balance consumption with activity," she said.
The field of zoo nutrition is evolving, and zoos are receiving more information about what animals eat in the wild.
When plants and fruits from an animal's native habitat aren't available, Zoo Atlanta tries to provide substitutes that are as similar as possible.
"You don't find fruit juice stands in the wild," she said.
-Elizabeth Landau, Associate Producer, CNN.com