The latest clue to finding life on Mars may have lot in common with the salt on your dining room table.
NASA's Mars Odyssey orbiter has discovered evidence of salt deposits in 200 spots on the Red Planet, indicating that water was abundant in those places. Given the close connection between water and life on earth, these salt sites could be prime locations for proof of possible Martian life.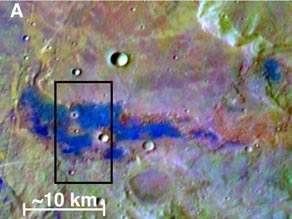 This false-color image shows a deposit of chloride (salt) minerals in blue in the southern highlands of Mars. Source: NASA/JPL-Caltech/Arizona State University/University of Hawaii
Odyssey's Thermal Emission Imaging System snapped thousands of pictures in a range of wavelengths that helped scientists see evidence for salt. Only sites in the planet's southern highlands, the most ancient rocks on Mars, appeared to contain chloride, a component of many kinds of salt.
The salt deposits formed about 3.5 to 3.9 billion years ago, at a time when Mars may have had sporadic spouts of a wetter and warmer climate than the conditions observed there today, which are cold and arid.
Images revealed many of the salt deposits in basins with channels leading into them, which is "consistent with water flowing in over a long time," said Philip Christensen, principal investigator for the camera at Arizona State University, in a NASA statement.
The salt probably didn't come from a global ocean, as the sites of the deposits are disconnected, said team leader Mikki Osterloo at the University of Hawaii in the statement. But groundwater coming up to the surface in low spots could have generated the chloride sites, he said.
Scientists trying to track down proof of life on Mars have largely followed clues of sulfates, which could result from the evaporation of water, and clays, which suggest weathering by water. Chloride now joins the mix of leads to follow for scientists seeking close encounters with remnants of past Martian life forms.
The researchers published their findings in a recent issue of Science, just days before the shake-up about a possible $4 million budget cut from NASA's Mars Exploration Rover program.
–Elizabeth Landau, Associate Producer, CNN.com
Filed under: Astrobiology • NASA • Space