Budget woes won't force NASA to shut down one of two Mars rovers operating on the red planet, an agency spokesman told CNN Tuesday, a day after one of the program's team leaders said an ordered budget cut could end the rover Spirit's tour of duty.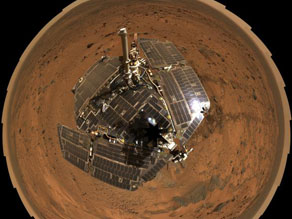 Spirit Self-Portrait. Source: NASA/JPL-Caltech/Cornell
Mars Exploration Rover program principal investigator Steve Squyres told CNN Monday that the program had received a directive to cut $4 million out of it's 2008 budget, and that would mean his team would have no choice but to shut down one of the rovers.
But now NASA spokesman Bob Jacobs says that directive is being withdrawn.
"A letter was sent directing reductions in several areas of the Mars exploration program. However, this letter was not coordinated with the Office of Administrator and is in the process of being rescinded. Administrator Michael Griffin has unequivocally stated that no rover will be shut down."
Squyres had said cutting 20 percent of the program's $20 million budget would likely force mission managers to put the "Spirit" rover into hibernation mode.
The cut's purpose was to offset cost overruns with the Mars Science Laboratory, a rover set to launch next year, NASA headquarters spokesman Dwayne Brown said Monday.
NASA spent $800 million to build and launch Spirit and its twin, Opportunity, to Mars. They landed about 3 weeks apart in January 2004, on opposite sides of the planet. Both were designed for 90-day missions but remain in operation more than four years later.
These robotic geologists have examined Martian rocks and soil, looking for tell-tale signs of water. They have provided detailed photographs of the planet's barren surface and large amounts of data on the it's make-up.
Opportunity hit pay dirt when it found evidence that a salty sea once stood in the area that is now called Meridiani Planum. Spirit has roamed miles from its landing site and climbed high into the Columbia Hills inside an area called the Gusev Crater.
Squyres indicated a budget reduction of size initially ordered would require job cuts in the staff of about 300 scientists that operate the rovers and analyze the findings. Those staff cuts, in turn, would mean science operations for one of the rovers would have to be suspended, and Spirit would have been the likely candidate because it is currently riding out the Martian winter in a parked position.
–Kate Tobin, Sr. Producer, CNN Science & Technology
Filed under: Mars • NASA • Space