Prospects for blasting off on a suborbital "vacation" to space got a bit brighter this week when XCOR Aerospace debuted designs for the "Lynx."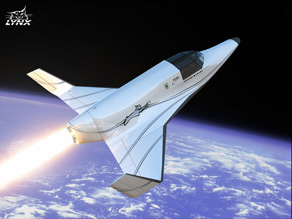 The two seat space plane is designed to carry a paying tourist just past the edge of space - where you would be able to see the stars against the blackness of space and the "blue marble" of the Earth below. About the size of a private airplane, the Lynx would fly to an altitude of about 200,000 feet. The "tourist" could expect to experience about 90 seconds of weightlessness, though he or she would remain strapped into the passenger seat the whole time.
XCOR plan to begin flights in 2010, and tickets will run about $100,000 dollars.
If all goes as planned, the Lynx will go head to head for passengers with Virgin Galactic's SpaceShipTwo, which is being designed and built by aviation guru and Ansari X Prize winner Burt Rutan. That space plane is designed to carry up to six people, and is supposed to start test flights this year. That ticket will set you back about $200,000, but during those precious few seconds of microgravity you would get to unstrap and float around in the back.
Entrepreneurs have been touting space tourism as the "next big thing" for some time now, estimating the market to be in the half-billion dollar range. And while a $100,000 or $200,000 thousand dollar ticket is hopelessly out of the ballpark for the masses, it could be workable for a sizable number of rich folks who view it as a "once-in-a-lifetime" trip - comparable to climbing Mt. Everest.
So far the Lynx is still on the drawing board. We'll keep you posted on the progress.
–Kate Tobin, Senior Producer, CNN Science & Technology
Filed under: Space • Space Tourism