Sixteen days ago the Space Shuttle Endeavour blasted off from Kennedy Space Center into the night sky. Its return Wednesday also came under the cover of darkness.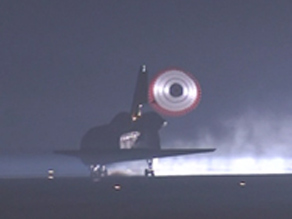 The shuttle's first opportunity to land at KSC was slated for just before sunset, but the weather didn't cooperate. NASA mission managers called off the attempt because of concerns over clouds in the area.
The next chance to land was after dark and still at risk of being too cloudy. Shuttle Astronauts train for night landings, but they can be more difficult. Before Wednesday only 21 had been done in the shuttle program's history.
We waited in the press center for the latest from NASA's weather experts. Meanwhile over our heads an astronaut flew the shuttle flight path in a special aircraft designed to simulate the shuttle's reactions in the weather conditions. In Houston NASA mission control poured over the latest weather readings. If they "waved off" the shuttle on this landing attempt the orbits wouldn't line up for another chance to land at KSC until the next day.
After what clearly were serious discussions, and a conversation with Endeavour Commander Dom Gorie, NASA managers made the final call. They asked the shuttle flight crew to fire the engines slowing the orbiter to begin its decent.
As the shuttle worked its way down over the Yucatan peninsula, we stood at the CNN live location and watched its path on a monitor. The first sign of the shuttle entering the area were two loud bangs in quick succession. The noises sounded a bit like fireworks but were actually the nose and tail of the shuttle crossing the sound barrier. We kept our eyes glued on the night sky but from our vantage point the only sight of the shuttle visible was on our TV monitors.
As we watched the live feeds a bright orange flame pulsed from the top of Endeavor near its tail. The bright flame looked alarming – but was actually nothing to be concerned about. The fire is part of the exhaust from the shuttle's auxiliary power unit. It actually shows up on every flight, but is much more apparent when it's dark out.
Thursday the Shuttle astronauts will head back to the landing strip to catch a plane home to Houston. That flight is scheduled for the afternoon – not in the black of night.
-CNN Producer Aaron Cooper at the Kennedy Space Center in Florida