If all goes as planned, the new European Automated Transfer Vehicle (ATV) will dock with the International Space Station next week. It's a task that has flight controllers at NASA, the European Space Agency, and the Russian Space Agency hugely excited, and nervous. Up until now, the only vehicles to dock with the ISS have been the space shuttle and the Russian Progress and Soyuz spacecrafts. All of them have long and mostly reliable track records in orbit.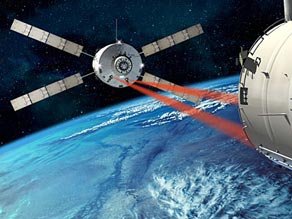 As the guys in Monty Python would say, "now for something completely different."
Christened "Jules Verne," this ATV is the first of five that will resupply the International Space Station at a rate of one every year and a half or so. It launched to space on March 8, but has been essentially parked in orbit for the duration of the space shuttle Endeavour's assembly mission to the ISS.
Before ESA gives the final "go" for docking, flight controllers will put the spacecraft through a series of tests to make sure all the onboard systems are working properly. A malfunction close to the station could spell disaster.
On Monday, flight controllers will practice maneuvering the spacecraft within 36 feet of the station, to work out any kinks before executing the actual docking on Thursday. The main objective is to test the close range sensors and the guidance and navigation systems. The station crew will also call for an "abort" to make sure they can successfully call off a docking in the event something goes wrong. Closest approach should happen about 12:45pm ET.
If all checks out as planned, the docking will happen at 10:40am ET on Thursday. "Jules Verne" will latch onto the Russian Zvezda Service Module, where it will remain for about six months. After it is unloaded, it will be repacked with trash and eventually directed on a "death dive" into the atmosphere, burning up over the Pacific Ocean.
When I mentioned that last fact in a previous blog entry, we got a tidal wave of outraged comments about the waste and inefficiency of discarding the hardware in such a manner. For the record, currently there are two ways to "take out the trash" on the ISS. The Russian Progress resupply vehicles are used in the way described above. Additionally, some "trash" is returned to Earth by the space shuttle. Much of what they take the trouble to bring back is broken equipment that they want to either refurbish for future use, or take apart to figure out why it broke and how to modify the design to make it more durable in the future.
If you want to watch the "Jules Verne" demo day/docking day events, check out NASA TV.
–Kate Tobin, Sr. Producer, CNN Science & Technology
Filed under: European Space Agency • International Space Station • NASA • Space