Not everyone in the animal kingdom needs to have sex to reproduce, but asexual species tend not to last as long as sexuals because, as the theory goes, asexuals are more susceptible to accumulating harmful mutations over many generations. That is why scientists are so fascinated by the Amazon molly fish, whose longevity has mysteriously defied evolutionary expectations.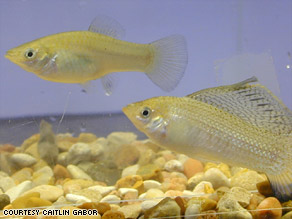 This fish species consists of only females and, in fact, was the first unisexual vertebrate species ever discovered. The Amazon molly lives in a small range from the Nueces River in southeast Texas to the mouth of the Rio Tuxpan in Mexico. There are well over 100,000 alive today, and there are no signs that their fertility is less than that of their sexual sister species, said biologist Laurence Loewe at the University of Edinburgh.
While Amazon mollies do not reproduce sexually, their eggs can only begin developing when triggered by sperm from males of related species. Scientists think the Amazon molly probably evolved as an asexual species about 70,000 years ago.
Loewe and collaborator Dunja Lamatsch at the University of Wuerzburg, now at the Austrian Academy of Sciences, applied mathematical models to the Amazon molly's genetic history, and found that the species should exist for less than 20,000 years before becoming extinct. The models examined a concept called Muller's ratchet, which assumes asexual populations tend to accumulate harmful mutations over time that lead to extinction. They recently published their findings in BMC Evolutionary Biology.
Since the species is probably much older than 20,000 years, this creates what scientists call a genomic decay paradox. How, then, could the species have defied evolutionary models, and survived so long?
One mechanism at work to help the fish survive may be what is called "paternal leakage" of undamaged DNA. In other words, when sperm from males of other species trigger egg development in the Amazon molly, DNA may occasionally leak to the female and repair or restore genes gone awry through mutations. Further research is needed to determine if this or still other processes slow down the extinction predicted by Muller's ratchet.
The results could have implications for the conservation of other so-called ancient asexuals, which include one species closely related to the Amazon molly.
Amazon mollies are also at a disadvantage because sailfin mollies, their parental species, prefer to mate with females of their own species rather than giving sperm to the Amazon mollies, research from Texas State University shows. Sailfin mollies also produce more sperm before mating with sailfin females than with Amazon mollies.
"Our results suggest that Amazon mollies have it doubly hard; they both have limited genetic variation (as per the paper above) and males of their parental species generally avoid mating with them and providing them with sperm," said Caitlin Gabor, associate professor of biology. "Yet, they clearly have persisted for a long time and possibly longer than any other vertebrate asexual species."
–Elizabeth Landau, Associate Producer, CNN.com
Filed under: Animals • environment