Perhaps it's only a coincidence that on this April Fool's Day, Google has announced an extraordinary initiative to improve your e-mail experience.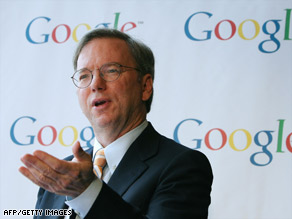 Eric Schmidt, chairman and CEO of Google, which unleashed its annual April Fools initiatives today.
With Custom Time, you can change the time stamps on up to ten e-mails per year to make it look like you didn't miss deadlines, birthdays, anniversaries, etc. But wait! If you make it so that an e-mail was sent in the past, wouldn't that have affected subsequent events? Apparently Google can even smooth out related kinks with its "e-flux capacitor" to "resolve issues of causality." One user apparently told Google, "I used to be an honest person; but now I don't have to be."
Even more exciting, Google claims to have teamed up with Virgin Group to launch Virgle, the first human colony on Mars. You can even apply to join the venture by answering the questionnaire. You'd better think really hard about how you would respond in tough situations. What would you do if "unexpectedly confronted with the emergence of a bewilderingly alien and frighteningly advanced Martian life form" that "appeared bent on killing" you if you "failed to quickly and effectively communicate my peaceful intentions and potential value to its civilization"? Once you've got that down, submit a 30-second video through YouTube explaining why you want to live on Mars. It's just that simple, fool.
–Elizabeth Landau, Associate Producer, CNN.com