.... or at least the other side of our world.   
 I just got back from a week in Beijing, as part of a program for American journalists to share their experience with our Chinese colleagues on reporting on science and the environment.  I'd never been to China, nor to anywhere else in Asia, so every part of this was a new experience.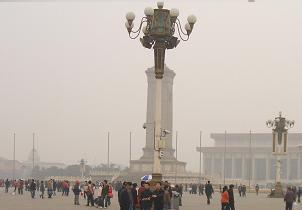 Looking across Tienanmen Square toward Chairman Mao's tomb on what I thought was a smoggy day. My hosts said the day was "not too bad."
China's capital city, lately swelling to a population of nearly 20 million, is basking in the glow of an economic boom - all while sweating in anticipation of its turn in the world's spotlight this August during the Summer Olympic Games.    After a few days to hit the obligatory tourist sites, and shake off the inevitable jet lag, we got down to business.
The journalists were from several divisions of CCTV, China's massive, state-run national broadcaster.  We met documentary producers, staffers from CCTV's English-language network, and from "Greenspace," China's nightly, prime-time environmental news show.    Five nights a week in prime time?  A potential audience bigger than the population of the United States?   Sounds pretty good - in fact, it sounds like a much better deal than a Science and Environment Guy can get here in the West.  The message has come down from on high:  Green is the new Black in Red China.
Of course, it's not that simple:  The "on high" is the Central Government, and the Central Government doesn't let you say Bad Things about the Central Government on the Central Government's TV Networks.  When I showed a portion of our recent "Broken Government" special on US failures in environmental protection, I was politely told that it would be naive to think that kind of thing could fly in China.  In fairness, some of the questions we received sounded a little naive from a Western perspective.  (My favorite:  "We know China has the world's world pollution problems, but what advice can you give us to turn this into a positive news story?").
Simple answer:  Clean it up.   Except that there's no such thing as a simple answer.  China has at least 20% of the world's population, but only 7% of its fresh water.  Much of that is too polluted for human use.  Much of the rest is drainage from the snowpack and glaciers of the Himalayas - now in drastic decline due to global warming.
 China's running out of water.   And land.  And acceptable air.  And it's rapidly caught up to the US in greenhouse gas emissions, with the prospect of huge increases as its economy continues to grow.  Importing the rest of the world's waste is a growing revenue stream for China, even while the actual streams often run in pastel colors from factory and mine runoff.
Is there any good news here?  Maybe.   China's time of reckoning with a growing environmental crisis is nicely timed for its coming-out party at the Olympics in August.  But will the spirit of the "Green Olympics" survive after the torch goes out?  Stay tuned.
- Peter Dykstra, Executive Producer, CNN Science and Technology
Filed under: Uncategorized