It seems there's virtually no dilemma plaguing humanity that hasn't been studied by some scientist, somewhere.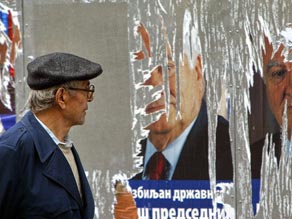 A torn poster in Serbia-Montenegro illustrates the "wallpaper problem." Source: DIMITAR DILKOFF/AFP/Getty Images
Case in point: You know how, when you try to tear down old wallpaper, or pull a label off something, it invariably peels on a diagonal line instead of coming off straight, so you end up with a point still stuck to the surface?
Well, apparently that really bothered a team of scientists from MIT, the Centre National de la Recherche Scientifique in Paris, and the Universidad de Santiago, Chile.
"This shape is really robust, so there must be something fundamental going on that gives rise to these shapes," said Pedro Reis, a mathematics instructor at MIT.
Now, the researchers have explained the physics of what they call "the wallpaper problem," according to a press release from MIT.
The team analyzed how the stiffness and toughness of a material being pulled off a surface interacts with the strength of the adhesive holding it in place.
The scientists say energy builds up along the line where the strip of wallpaper (or whatever) is peeling from the wall, and one way for the energy to be released is for the strip to become narrower – so it does.
The team also came up with a way to predict the angle at which a given piece of wallpaper will tear.
The scientists say the same thing happens when you peel a tomato or a grape. It's not clear whether any of the researchers actually sat around peeling grapes.
The research could actually have practical applications in industries where the properties of sticky films are important.
The study was published in the journal "Nature Materials."
–Kate King, Writer, cnn.com
Filed under: Materials • Physics