We all know one fish and one fish make two fish, but recent evidence suggests that fish may know that too. In fact, mosquitofish can count up to four, according to results from a team of researchers led by Angelo Bisazza of the University of Padua in Italy.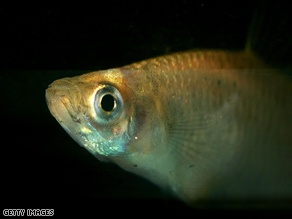 In each test, a lone female mosquitofish had two options for shoals to join, each containing between two and eight other fish. The results showed the lone fish would usually choose the shoal that was larger by just one fish, consistently picking the shoal of four fish over the one with three, and the shoal of three fish over the one with two.
But when one of the choices was larger than four fish, the fish could no longer discriminate. Monkeys and one-year-old children exhibit the same limit, Bisazza said.
Experiments examining what the fish would do when confronted with larger numbers found that, for shoals of more than four fish, they could still tell the difference between the quantities if there was at least a 2:1 ratio. That is, they would choose a shoal of eight fish over the one with four, but they could not discriminate between a shoal of 12 and a shoal of eight. These results are consistent with mathematical abilities observed in birds and mammals.
Similar performance has also been observed in people who speak languages that contain limited vocabularies for numbers, Bisazza said. For instance, speakers of the Amazonian language Munduruku only have words for numbers from one to five, and do not have names for numbers beyond that. Though they are able to solve nonverbal number tasks involving quantities up to 70, in exact arithmetic they do not do well with numbers larger than four or five, he said.
Besides fish, other non-human creatures that have shown at least some rudimentary mathematical abilities in studies include chimpanzees, macaques, dolphins, dogs, parrots and pigeons.
"Many researchers are now convinced that mammals and birds may share common mechanisms to count objects and compare quantities," Bisazza said.
–Elizabeth Landau, Associate Producer, CNN.com
Filed under: Animals • Mathematics