I sat down a few hours ago to fire off a quick blog about today's Webby Award nominations... but it's been hard tearing myself away from surfing the nominees.  There's lots of material you'll want to forward to friends.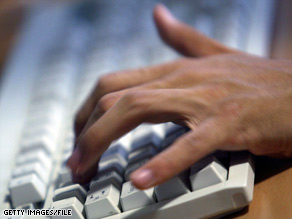 For the past twelve years, a group of Internet industry experts and luminaries have handed out the Webby Awards.  In 1997, the inaugural honors were bestowed upon a handful of Web sites in 15 categories.  Today, there are more than 100 categories ranging from "Activism" to "Weird," covering not only Internet sites but interactive advertising, online videos and mobile phone entertainment.
You've probably already seen a number of the nominees.  A lot are heavily viewed, like Facebook, Flickr, and yes, cnn.com.  And I must mention that Anderson Cooper 360 is up for best fan site.  (Sadly, SciTechBlog is not mentioned for best blog - go figure!)  And a lot of the nominees have probably graced your inbox, like the 30-second Bunnies Theatre version of Brokeback Mountain or the angst of Lonelygirl15.  But you probably haven't seen many of the nominees, like a video of breast reconstruction after a mastectomy (and you may not want to!)
The Webby Award honorees are nominated and chosen by a 550-person judging academy called the International Academy of DIgital Arts and Sciences.  Members include "Simpsons" creator Matt Groening, "Father of the Internet" Vinton Cerf, and movie mogul Harvey Weinstein.  But you can also be a judge in The Webby People's Voice Awards.  These honors will be given in more than 70 categories - get your vote in by May 1.
Winners will be announced May 6, and honored at two separate ceremonies in New York City - June 9th for The Webby Film and Video Awards and June 10th for The Webby Awards Gala.  Winners are allowed just five words to deliver their acceptance speeches.  One of the most memorable is Al Gore's Lifetime Achievement Award speech in 2006 - "Please don't recount this vote."  You can browse past acceptance speeches on the Webby Web site.
Okay.  Now back to Cute Overload.
–Diane Hawkins-Cox, Senior Producer, CNN Sci-Tech Unit
Filed under: Internet