Want to know exactly where in the U.S. the biggest belches of fossil-fuel carbon dioxide are emitted? Researchers at Purdue University have just released a map that shows you, in more detail than ever before.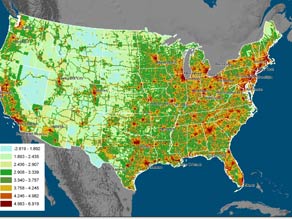 Source: Purdue University
The Purdue scientists say their system, called Vulcan, is more accurate than earlier inventories of CO2 sources, because it's based on actual emissions of greenhouse gases, as measured by the EPA and other agencies, rather than estimates.
Another reason it's more accurate, they say, is because it uses data collected every hour at local levels, rather than monthly on a state-by-state basis. The data are broken down into areas as small as 6 miles across.
Vulcan takes into account carbon dioxide from all sources that burn fossil fuels like gasoline or coal: vehicles, factories, home heating, power plants.
The Purdue researchers say when they combined a huge amount of data into a format that's easy to grasp, they got some surprises.
"For example, we've been attributing too many emissions to the northeastern United States, and it's looking like the southeastern U.S. is a much larger source than we had estimated previously," says Kevin Gurney, the leader of the project, in a written statement.
At first glance, you may think that the CO2 emissions follow the roadways with amazing precision – for instance, along I-80 in northern Nevada. But that's actually because the researchers built the map that way; all the emissions attributed to cars and trucks were shown hovering over the major roads.
Check out the little patch of clean air in upstate New York, close to the Vermont line: that's the state's 6-million acre Adirondack Park, created in 1892.
The Purdue researchers have also posted some videos from the Vulcan project on YouTube, including a cool animation of CO2 emissions over months, which are shown billowing off the map in a big brownish-purple cloud.
The researchers say because of the accuracy of the Vulcan tool, it could help policy-makers come up with more precisely targeted ways to battle greenhouse gas emissions.
And they say the project is not about assigning blame for greenhouse gases. "What Vulcan makes utterly clear is that CO2 emissions cannot be exclusively affixed to SUV drivers, manufacturers or large power producers; everybody is responsible," Gurney says in the press release. "It's not about politics. It's about doing good science and solving the problem, and we can all be a part of that."
The project included researchers from Purdue, Colorado State University and Lawrence Berkeley National Laboratory. It was funded by NASA and the Department of Energy.
–Kate King, Writer, cnn.com
Filed under: climate change • environment