Check out these new views of Mars' moon Phobos, taken by the Mars Reconnaissance Orbiter (MRO) back on March 23.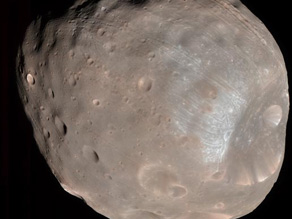 Source: NASA/JPL-Caltech/University of Arizona
The two images were shot 10 minutes apart. At the time, MRO was a couple hundred miles above the surface of Mars, traveling 7,800 mph. Phobos, which is just 13.5 miles wide, was about 4,000 miles away. Given the distance, the clarity and resolution of the images is remarkable.
The principal feature on the moon is undoubtedly the Stickney crater, on the bottom right in these pictures. It's about 5.5 miles in diameter, and was formed by a very large impactor. Also very noticable is the blue material around the rim.
"Based on analogy with material on our own moon, the bluer color could mean that the material is fresher, or hasn't been exposed to space as long as the rest of Phobos' surface has," said Nathan Bridges with NASA's Jet Propulsion Lab, in a statement.
Mars also has a second, even smaller moon, Deimos. Scientists think the moons might be asteroids from the asteroid belt that got caught in Mars' gravitational field. If so, they are different from Earth's moon, which many scientists think formed from shattered rock jettisoned into space when Earth was hit by a massive asteroid or comet shortly after the planets formed 4.5 billion years ago.
–Kate Tobin, Senior Producer, CNN Science & Technology
Filed under: Mars • NASA • Space