Climate change discussions often focus on carbon dioxide, but another major culprit gets unleashed every time a truck drives on diesel fuel.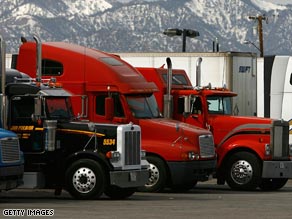 Black carbon, a principle component of soot, contributes more to climate change than previously thought, new research shows. In fact, black carbon could have as much as 60 percent of the current global warming effect of carbon dioxide, scientists reported in the journal Nature Geoscience.
Diesel combustion in trucks, buses and cars emit a lot of black carbon. The particulate air pollution also commonly comes from burning firewood, indoor cooking, and biomass burning.
Using data from satellites, aircraft and surface instruments, the scientists found that the warming effect of black carbon amounts to 0.9 watts per meter squared. That's at least two times greater than estimates put forth by the United Nations-sponsored Intergovernmental Panel on Climate Change (IPCC), the researchers said.
Besides making things look dirty, black carbon particles contribute to the retreat of glaciers and pose a public health risk, said V. Ramanathan, co-author of the study and atmospheric scientist at the Scripps Institution of Oceanography at the University of California, San Diego.
A major difference between black carbon and carbon dioxide is in their respective life spans, Ramanathan said. Carbon dioxide molecules can stay in the atmosphere for more than 100 years after being released, whereas black carbon only stays up there for about 10 days.
Black carbon pollution is a problem worldwide, the scientists said. China and India are responsible for between 25 and 35 percent of black carbon in the global atmosphere, mostly from burning wood and cow dung for cooking and using coal for heating. Countries that extensively use diesel fuel for transportation are also responsible for a lot of black carbon pollution.
While policy action should be taken to reduce black carbon emissions, it would be a "catastrophic mistake" to think that's enough, without also addressing the problem of carbon dioxide emissions, Ramanathan said. "We have to do both," he said.
–Elizabeth Landau, Associate Producer, CNN.com
Filed under: climate change