Apparently a few hundred million of you were zoned out the day your a) mother b) father c) elementary school teacher told you that if you make a mess, you clean it up. And it appears that the smokers of the world had a higher absentee rate than others.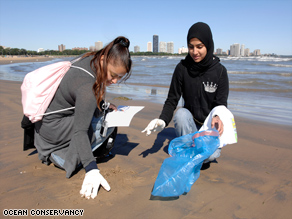 Volunteers on coasts and lakes picked up more than six million pounds of bottles, bags and butts last September 15, during The Ocean Conservancy's annual International Coastal Cleanup. The organization has just released a detailed analysis of the litter they picked up along 33,000 miles of shoreline.
Top 10 debris items collected worldwide:
cigarette filters 27%
food wrappers/containers 9%
caps lids 9%
bags 8%
beverage bottles (plastic) 6%
cups plates forks knives spoons 5%
glass bottles 4%
cigar tips 4%
straws/stirrers 4%
beverage cans 4%
The most dangerous items to ocean creatures: plastic bags, balloons, fishing traps, fishing line, and six pack beverage holders. Volunteers also found condoms, diapers, syringes, light bulbs, shotgun shells, and appliances.
Some of the 378,000 volunteers in 76 countries learned firsthand how deadly trash can be to wildlife. Those scouring beaches found 81 birds, 63 fish, 49 invertebrates, 30 mammals 11 reptiles and one amphibian entangled in debris during the cleanup effort. Among the volunteers were 8300 divers, who averaged 20 pounds of trash each.
Data collected in earlier beach cleanups has helped craft marine debris legislation, and helps find simple answers to litter problems.
"It's a wonderful event, engaging people to do something positive," said Laura Capps, Senior Vice President of the Ocean Conservancy. "It also gives us tangible data to identify sources and problems," she said.
Many of the answers to reducing coastal litter do NOT involve rocket science.
Capps said 80% of the beach trash comes from land based sources. And solutions may be as simple as providing more bins on beaches for people to put their picnic litter.
So what about the other 364 days a year when volunteers are not cleaning up?
Sometimes the volunteers who pick up trash on the official cleanup day get active in their communities to make beach beautification a year-round effort.
"For many people the ocean is big and vast and dark, out of sight and out of mind," said Capps. She said people who say they would never leave trash at the beach don't realize that flicking a cigarette out the window or not chasing down a straw wrapper from their kids are creating litter that can just as easily end up in a waterway.
One of the sponsors of the coastal cleanup is a company whose products make up a big part of the trash problem.
Paige Magness, spokeswoman for Philip Morris, said there are simple answers to reducing some cigarette trash.
She said the cigarette manufacturer works with the national non-profit Keep America Beautiful organization to place cigarette receptacles at the entrances of non-smoking buildings. In 2007, she said that effort reduced cigarette litter by 54% in the 180 participating communities.
Cans and bottles also make up a big part of ocean trash. Coca-Cola has been working with the Ocean Conservancy and its cleanup efforts for 12 years.
"We have an extensive research and development program, we are always looking at the next innovation in packaging," said Lisa Manley, Director of Environmental Communications at Coke headquarters in Atlanta.
She said the company was among the first to use recycled content, and to invest on "bottle to bottle" facilities, taking used plastic and turning it into new bottles.
The Ocean Conservancy says it wants to stress the positive aspect of hundreds of thousands of people making a difference in cleaning up coastal areas.
And maybe some of those "things you should have learned in kindergarten" need a little review. It could be your bottle or your cigarette butt responsible for killing some of the million seabirds and 100,000 marine mammals and turtles that die from eating or becoming tangled in marine trash every year.
–Marsha Walton, Producer, CNN Science and Technology
Filed under: Animals • environment