It is the real estate equivalent of the hybrid Hummer – an 8,000 square foot "eco-mansion." On this Earth Day I thought it would be worth considering the apparent hypocrisy of building a palace with the environment in mind.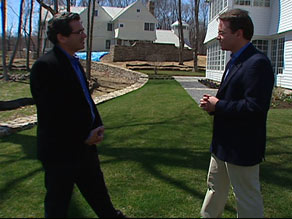 It turns out it is not easy being green – especially when you are a giant.
We traveled to ever-so-swell North Stamford, Connecticut to the Windermere on the Lake development. Here they are building a few dozen mega-homes on some beautiful untouched real estate. The parcel was owned by one family for years.
Windermere President Mark Hallet Robbins reminded me "it's particularly hard to deliver a very sustainable, environmentally conscious and economical to operate home at this scale."
But you have to give them points for trying.
The home we toured has geothermal heating and cooling, incredibly tight and efficient insulation... sustainably- harvested lumber...lots of LED and natural light and the home sites are built in clusters- to preserve the woods.
"I think we've pushed the envelope of green pretty far," Robbins told me.
But can a jumbo size envelope like this really lay claim to being green? For that part of the story, I went down to Carrboro, North Carolina (right next to Chapel Hill).
That's where Architect Sophie Piesse designed an exquisite two thousand square foot home near Chapel Hill North Carolina for Jan and David Markiewicz.
Sophie is a big believer in thinking small – but designing smart.
"People spend a lot of money on square footage, and don't spend anything on the quality of the space," she told me.
In fact the Markieiczes moved from a classic McMansion twice as big. (See what goes into living a greener life)
"There were rooms that we never walked into," says Jan.
David told me "it never really felt comfortable in terms of the way in which we really like to live."
But their new house fits them like a well tailored suit. There is a cozy living room right next to the kitchen with a angles peninsula. Right beside it is a banquette where they eat every day – and entertain. Who really needs a formal living room and dining room? The house is just exquisite. The size is "Goldilocks" all the way: just right
The moment we decided to do this story I thought of architect and author Sarah Susanka. I am a member of the Lindbergh Foundation Board of Directors – and last year we gave Sarah an award for her work proselytizing the virtues of "The Not So Big House". The book she first penned with that name ten years ago has morphed into an extremely successful series – a cottage industry (if you will).
When Sarah first came here from Britain she was taken about by the big size of nearly everything – from cars, to drinks, to food portions to homes.
"Right now in almost everything you can look at any part of our society and see excess," she says.
Sarah is not a judgmental person – ( hard as I tried to get her to cast aspersions!). She says "Not so Big" is something that should be left entirely to individuals. But it is clear she would like to see us walk away from building trophy homes.
"We're trying to balance our footprint on the planet," she told me. "We each can make incredible shifts in how we're living to affect that shift."
Sarah hopes over time, people will see the wisdom of building smaller and living smarter. To return to the analogy I used at the outset – perhaps it is time we looked for a home as we shop for a car. And maybe the Prius is all we need. (See how much you know about living green)
But at Windermere – they say the owners of these huge eco-mansions will not owe us – or the planet – any apologies. Still – wouldn't smaller be greener? Mark Robbins begs to differ.
"It's how you build it, it's where the houses are sited and how they operate," he said.
Our homes are our castles – and they are the cornerstone of the American Dream. Now is not the time to stop dreaming big – but maybe it is time to stop building that way simply for the sake of telling the world we have arrived.
–Miles O'Brien, CNN Sr. Environment and Technology Correspondent
Filed under: environment