Actually, neither Soyuz commander Yuri Malenchenko nor Expedition 16 Commander Peggy Whitson uttered those words as their spacecraft plunged through the atmosphere toward a rougher-than-expected landing in Kazakhstan last weekend.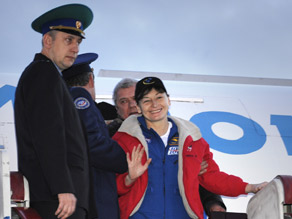 Expedition 16 Commander Peggy Whitson arrives at Chkalovsky airport, Star City along with Flight Engineer and Soyuz Commander Yuri Malenchenko and South Korean space tourist So-yeon Yi. They returned to Earth on April 19, 2008 to complete 192 days in space for Whitson and Malenchenko and 11 days in orbit for Yi. Source: NASA/Bill Ingalls
But details are beginning to trickle out suggesting they DID have several problems, though exactly what went wrong and how serious it was is still unclear. NASA Associate Administrator for Space Operations Bill Gerstenmaier held a teleconference with reporters Tuesday afternoon to share what he does know about the incident.
Malenchenko, Whitson and South Korean space tourist So-yeon Yi were returning to Earth from the International Space Station on Saturday when some sort of malfunction triggered a so-called "ballistic" re-entry scenario. The spacecraft re-entered at a much steeper angle than planned, bringing it down a couple hundred miles short of its target landing zone near the Baikonur Cosmodrome in Kazakhstan.
The crew members inside were subjected to far more extreme G forces than normal during the drop through the atmosphere – approximately eight 8 G's for up to two minutes. There were Russian media reports of 10.5 to 11 G's at peak, but Gerstenmaier was unable to confirm that.
There is some evidence to suggest that one or more pyrotechnic bolts that hold the crew cabin to the instrumentation/propulsion section didn't "blow" as designed at the appropriate point in the descent. Those two sections need to separate so that the crew cabin's heat shield is properly oriented during the hottest, most fiery parts of atmospheric reentry. Crew members reported abnormal levels of buffeting and jostling during decent, and there are anecdotal reports by people who saw the spacecraft on the ground that it was more singed than usual. The hypothetical worst case scenario in this case would be that the unshielded parts of the Soyuz would be exposed to searing hot temperatures for too long and they could burn through. This obviously didn't happen, and there is no evidence so far to suggest it was even close. But after a breached heat shield brought down the shuttle Columbia back in 2003, NASA is very aware of the potential for disaster.
Yuri Malenchenko smelled smoke in the cockpit near the end of the flight, shortly after the parachutes deployed. He switched off the display panel for a time, and the burning smell went away.
Russian mission control was out of contact with the spacecraft for a significant period of time, and communications were not reestablished until after the crew climbed out of the downed spacecraft and Malenchenko called in on a satellite phone. There is more anecdotal evidence suggesting the communications antenna burned off during the descent, though Gerstenmaier was keeping an open mind as to whether or not there could be other explanations for the loss of comm.
And making the whole situation even more worrisome: this is the second time in a row that some of these anomalies have happened. The ballistic reentry and the crew cabin separation problem both occurred last fall when the Expedition 15 cosmonauts returned to Earth. An investigation fingered a shorted out cable as the culprit in the ballistic reentry. Malenchenko and Whitson inspected that cable in their Soyuz prior to deorbiting, and it appeared fine.
ROSCOSMOS, the Russian space agency, is appointing a commission to investigate what when wrong with this latest landing, and how it relates it to the Expedition 15 malfunctions. Gerstenmaier says NASA has full confidence that the Russians grasp the seriousness of getting to the root cause of what's going on.
But this is clearly another headache for the folks at NASA, who will be relying on the Soyuz to ferry crews to and from the International Space Station for years to come, especially after the space shuttle fleet is retired at the end of 2010.
The next astronaut slated to fly aboard a Soyuz is Expedition 18 Commander Mike Fincke, in the fall of this year. NASA hopes to hear the results of the Russian investigation in a few months, and decide by August or September if the problem has been diagnosed and fixed.
–Kate Tobin, Sr. Producer, CNN Science & Technology
Filed under: International Space Station • NASA • Space • Space Tourism