As Romeo and Juliet disputed whether they heard a lark or a nightingale singing on the pomegranate tree, they probably did not ponder the biological underpinnings of why birds sing in springtime.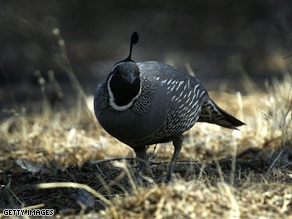 Scientists unlock mysteries of why birds sing.
In fact, the precise mechanisms for springtime bird singing have always been mysterious to scientists. But a recent study breaks new ground in the biology of bird songs.
A group of researchers has discovered a hormone that sets off neural activity that causes birds to sing when the days get longer. The study, led by Takashi Yoshimura of the Nagoya University, Japan, was reported in a recent issue of the journal Nature.
The scientists studied 38,000 genes of male Japanese quails under both long and short days. They found that some genes were only switched on 14 hours after dawn on the first long day.
These particular genes were found only in cells on the surface of the hypothalamus, and produced a thyroid-stimulating hormone, said Peter Sharp, a collaborator on the study at the Roslin Institute in Scotland. This hormone sets off the release of another hormone which stimulates spring breeding, he said in an e-mail.
The pituitary gland gets a boost from the hormone, pumping out other hormones that make the birds' testes grow, the study said. This process makes birds sing.
But it's not just our fowl friends that could benefit from this study. Human conditions such as seasonal affective disorder and poor fertility could be connected to a malfunction of the very same cells studied in the birds, Sharp said.
"Discoveries in basic biology increase the chances of developing new ways of improving animal and human well being," he said.
–Elizabeth Landau, Associate Producer, CNN.com