NASA's remarkable Earth Observatory site has posted a series of photos taken from the International Space station. These pics, taken from a camera designed by former ISS astronaut Don Pettit during his stay aboard the Station in 2002-2003, show some of the brightest spots on the planet.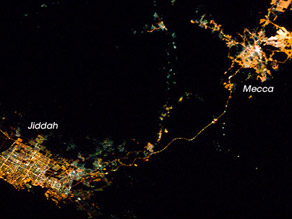 Jiddah and the Muslim Holy City of Mecca as seen at night from the International Space Station. Source: NASA
Tokyo, the U.S. East Coast, the major cities of the U. K. and Ireland, the Loop in Chicago, and the brightly-lit docks of Long Beach, CA are among the bright spot. But NASA awards the dubious distinction of the Brightest Spot on Earth to the Las Vegas Strip. Why am I not surprised?
But (you knew this line was coming) what's lit in Vegas doesn't stay in Vegas.
Light Pollution is an aesthetic problem. If you live in an urban area, chances are it's been a while since you've seen a star-filled sky, a planet, or a meteor. But so much of our outdoor lighting is pointed up toward the sky - where it does no good - that light pollution has a direct link to what goes into your lungs.
The International Dark-Sky Association, a two-decade-old, Tucson-based nonprofit, has petitioned the US EPA to recognize light pollution as an "official" pollutant. They estimate that Americans spend several billion dollars a year, and generate an extra 38 million tons of carbon dioxide, in addition to the other pollutants associated with generating power, through wasteful lighting pointed at the heavens.
IDA advocates a switch to more efficient lighting: The kind that directs the light toward the things that need to be lit. Not only would it be one more little piece in the puzzle for reducing global warming, but it might make you see stars.
–Peter Dykstra Executive Producer CNN Science and Tech
Filed under: environment • International Space Station • NASA • Space